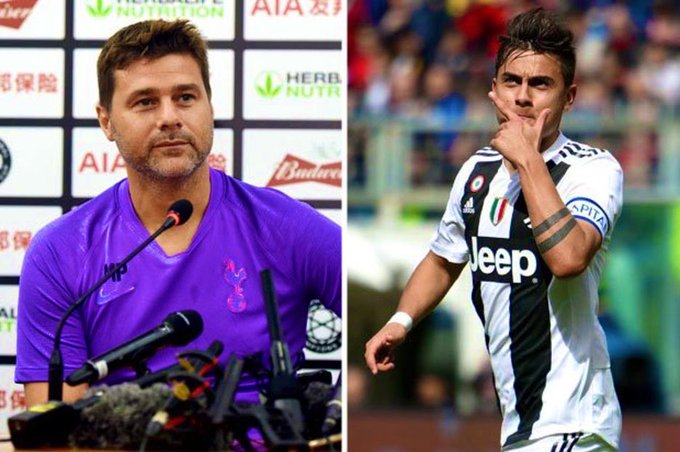 Tottenham Hotspur fans have savagely attacked their club for submitting an unreasonable offer to bid for sensational Juventus star. A day after losing 2-1 to the Red Devils in Shanghai, Spurs have aggressively made an advance for Paulo Dybala to revamp their striking force ahead of the 2019-20 season.
According to reports, Mauricio Pochettino is a great admirer to the 25-year-old and has offered €50M to Juventus to try and land the signing of the Argentinian.
But the amount has been judged as insufficient by the Old Lady, who demanded about €100M to release the star.
Spurs are seriously interested in Dybala and intermediaries delivered an offer of €50m, which was judged as insufficient. The club have made him a symbol and Sarri believes in him. Dybala is eager to return and understand the role the new coach has for him. [La Stampa] pic.twitter.com/Lia89ZApe1

— Juvefc.com (@juvefcdotcom) July 26, 2019
💣 Reports about that Tottenham's €50m bid for Paulo Dybala has been rejected by Juventus. Player valued at €90m.

Impossible it was a genuine offer. pic.twitter.com/HTEk6YjrAW

— Adriano Del Monte (@adriandelmonte) July 26, 2019
Juventus of Turin rejects € 50 M for Paulo Dybala https://t.co/qVna7ytA9D pic.twitter.com/3xRvihTBvf

— archysportcom (@archysportcom1) July 26, 2019
The news has raised excitement as Spurs fans cannot just wait for the deal to happen. Fans have expressed how eager they are to have the player and have encouraged their club to make a reasonable offer before any other club does. With Dybala, the Pochettino-led side believe they will rock Europe next season;
We ain't gunna sign him for that, just pay the 80 mill it's worth it before some other club does

— JWoolf⚪️⚪️ (@Joseph12787137) July 26, 2019
If (big IF!) we sign him, surely that will shut the Gooners up about Cellabos and Saliba?!

— Micheal Bennett (@bennotheyid) July 26, 2019
Oh don't submit embarrassing offers like our neighbours

— DJ (@DJFOOTY) July 26, 2019
This window is going to be a disaster at this rate

— markmcallister (@markmac2004) July 26, 2019
I mean u know ur going for a top player why would they disrespect with that filthy bid. Guess If we have genuine interest it can be done for sure, as juve are eyeing icardi. All upto Daniel 🙏

— Srinivas (@Srchandu22) July 26, 2019
I expected Rose to be part of any deal. 50 million euro seems a weak effort for a player of his calibre

— Damien Jose (@DamienJose) July 26, 2019
50Mil euros? thats one heck of a lowball levy

— Beautiful Ben Davies 🏴󠁧󠁢󠁷󠁬󠁳󠁿 (@BenTheGoatTHFC) July 26, 2019
The Argentine forward is currently still on his summer vacation following the Copa America.
Dybala is expected back in Turin on Sunday, at which point the forward is scheduled to talk with manager Maurizio Sarri.
Opera News is carrying out a short survey on the effectiveness of our notifications. Spare a minute and share your thoughts with us.