Nominated Senator Isaac Mwaura is delighted that the Ethics and Anti-Corruption Commission raided the Kiambu Governor home and arrested him on Wednesday morning in his Runda home.
The officers went to Waititu's homes in Runda, Kiambu and Garden estate where they ransacked them for documents with his wife, and daughter taken to Ethics and Anti-Corruption Commission offices at Integrity Center for questioning over claims of graft.
Expressing his delight, the Senator posted in his  Facebook account;
"Bravo Ethics and Anti-Corruption Commission for raiding the homes of and arresting Kiambu Governor Ferdinard Waititu. We do hope that you will find incriminating evidence on the wanton corruption and wastage of public funds in our county".
He went on;
"Waititu should tell us how he acquired Jamii Bora House, a vacant plot nearby, Delta Hotel opposite central police and Solar House, yet when we campaigned together, he was as broke as any other aspirant . We also need to know who Kaa Sober money was being paid to. Their full names, bank account details and the amounts paid".
Governor Waititu was arrested in a dramatic arrest this morning, subjected to hours of grilling and questioning by Anti-Corruption Detectives at the Agency's headquarters in Nairobi.
Confirming Waititu's capture today, EACC's Chief Executive Officer Twalib Mbarak said that Waititu was arrested after allegations of Money Laundering were labelled against him.
The Governor is also being accused of irregular awards of tenders valued at Kshs. 588 Million to companies associated with him and his close family members.
He is also accused of Fraudulent acquisition of Public funds and Having Conflict of Interests in his various dealings within Kiambu County.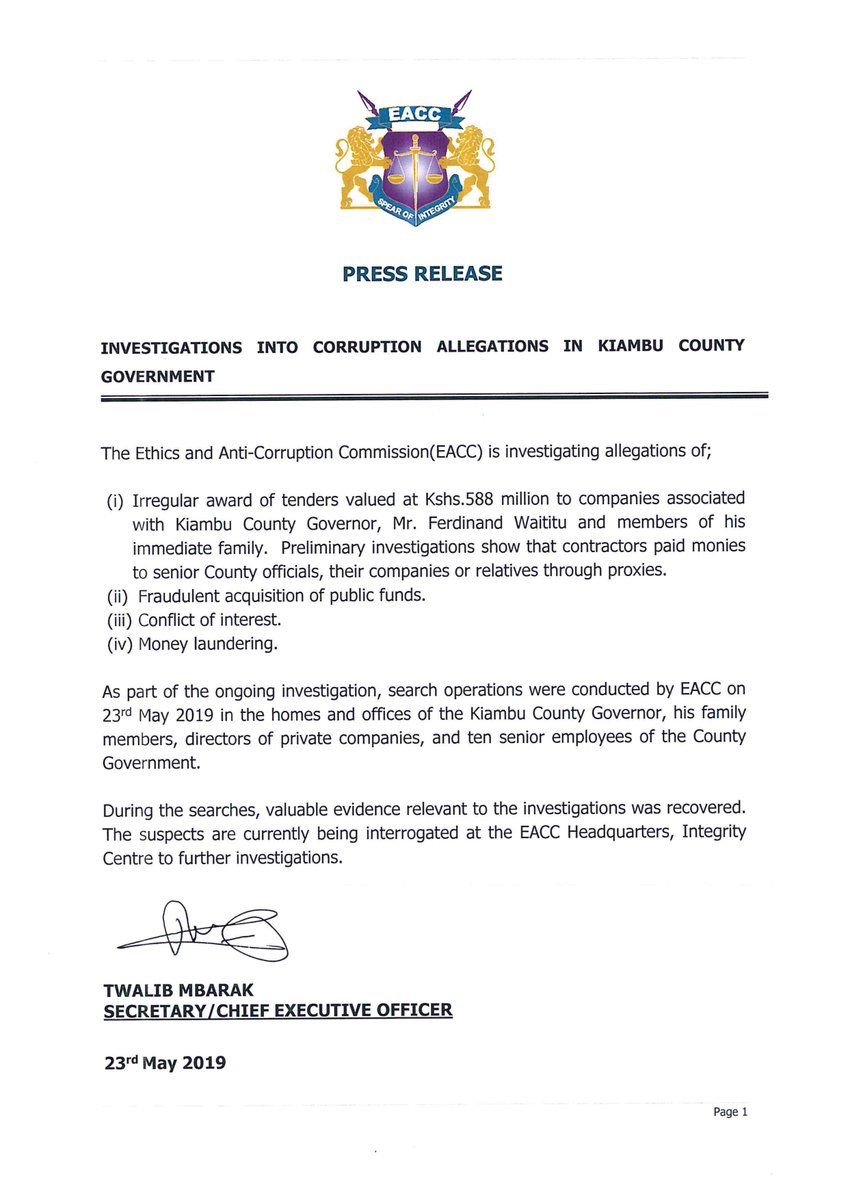 Waititu's latest arrest comes in the backdrop of other grave allegations against him. His continous accumulation of wealth has also not gone well with a number of leaders who have called on thorough investigations against him with many even calling for a Lifestyle Audit.