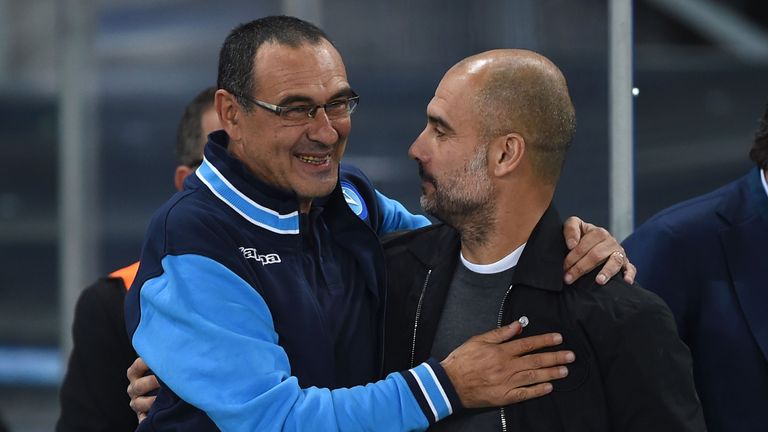 Embattled Chelsea boss Maurizio Sarri may be sacked within the next few days and says his Manchester City counterpart Pep Guardiola was "lucky" to be given the time he needed to overhaul his squad.
The two managers go head to head in Sunday's Carabao Cup final, but while Guardiola's City are chasing a possible quadruple, Sarri is clinging to the job he was only given last summer.
But Sarri's Chelsea have more wins (28) after 43 games than City did in Guardiola's first season at the Etihad Stadium in 2015-16.
Guardiola had pedigree from his stints at Barcelona and Bayern Munich and was given time, and funds, to revitalise City, while it remains to be seen whether Chelsea will show the same patience with Sarri, especially with the club facing a transfer ban.
"He (Guardiola) was lucky," said Sarri.
"I think that, if you choose Guardiola, you have to wait because the club knows very well that Guardiola needs time.
"In my job, I need the result. Nothing else."
Sarri has been criticised for pushing World Cup winner N'Golo Kante into a more attacking position, in order to accommodate Jorginho, who followed the head coach to Stamford Bridge from Napoli.
Jorginho was booed when he came on as a substitute in Thursday night's Europa League win over Malmo, but Kante felt the crowd's reaction was based on Monday's FA Cup loss to Manchester United.
"As a team we have some difficulty at the moment but we are all together and no-one's special," said Kante.
"The reaction of the supporters is more general about our last performance. We can understand their disappointment."
Sarri has dismissed the possibility of Kante playing the Jorginho role and the Frenchman says he is relishing his more advanced position.
"I'm enjoying participating more in the offensive positions," he added.