Should suspects suffering from a disease be allowed out of court?
In May this year, the court jailed John Gakuo for three years after finding him guilty of abuse of office and breach of procurement laws.Mr Gakuo said he is not a flight risk and that his appeal was highly likely to succeed. He said he was above 60 years and suffered from several ailments.
But the courts declined to listen bearing in mind corruption has become a disease in this country and those that engage in the vice must know that their days are numbered.
As the NYS saga continues one of the suspects in the National Youth Service (NYS) scandal was on Tuesday afternoon excused from court proceedings to allow her to seek medical treatment.
Chief Magistrate Douglas Ogoti allowed Lucy Wambui Ngirita's mother to take her to hospital.
Magistrate Ogoti ordered the two suspects to appear in court on Wednesday.
On Monday, Mr Ogoti directed the police to investigate medical documents filed by Ms Ngirita (Ann) after she sought an adjournment of the trial.
NYS 2 trial: Court declines to grant application for adjournment by Ann Ngirita in order to seek treatment following conflicting medical records. Court to continue hearing on additional evidence submitted by .@ODPP_KE #AntiCorruption_ODPP#NYS2Trial pic.twitter.com/dw6t8CZ8Wm

— ODPP_KE (@ODPP_KE) November 12, 2018
Mr Ogoti declined to adjourn the case to allow Ms Ngirita to seek treatment. Instead, he ordered the Director of Criminal Investigations to determine the authenticity of the medical documents and file a report in court in three days.
The Ngirita family in Naivasha was arrested in a swoop of suspects linked to the Sh9 billion National Youth Service scandal.
Ms Ngirita, whose company Annwaw is accused of receiving millions of shillings for goods not delivered, pleaded with the court to adjourn the case, saying, she was unwell.
Through lawyer Migos Ogamba, she said she has a stomach and spinal cord problem, which would not allow her to sit for long hours.
The lawyer said she only came to court with the intention of seeking the adjournment because the pain was unbearable.
To support her claim, she tabled medical reports from two clinics she attended in Naivasha and Kinangop.
Mr Ogamba said one of the reports had referred her to Mater Hospital for further examination. Other lawyers supported her application, saying, her medical condition should be treated seriously.
The prosecution disputed the documents, saying, some were not signed and don't indicate which doctor made the referral.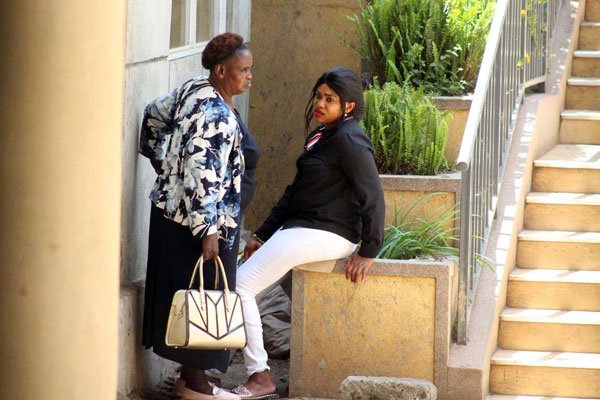 Mr Ogoti agreed with the prosecution, saying, some documents were not supporting the claims she was making and declined to adjourn the matter.
According to the magistrate, the move was one of the many applications made by the defence to scuttle the trial.
The accused persons in the current case include former Public Service and Youth Affairs Principal Secretary Lilian Omollo, former NYS Director General Richard Ndubai and 28 others.
Other Ngirita family members are Phylis Njeri and Jerimiah Gichini, who are alleged to have fraudulently received Sh226.9 million from the NYS.