They say the strongest man is he who stands alone but would you dare to do so? Beatrice Elachi who has repeatedly vowed not to go down without a fight demonstrated by her weapon when she was first under the threat of being physically impeached by MCAs is still not scared as she is now fighting from outside her post.
She revealed that the Nairobi's assembly had set bad precedence. "It has shown other counties that laws can be bent at will to suit selfish interests," Elachi said.
Beatrice replaced Alex Ole Magelo, who did not contest his seat. Immediately prior to her election, she was the Majority Whip in the Kenya Senate.
Now impeached as the Nairobi County assembly Speaker, she has blamed the Jubilee Party leadership for her woes while speaking in Malava on Sunday.Ms Elachi claimed the assembly's standing orders were tampered with yet the party remained quiet.
"You cannot change standing orders and use them in the same sitting. That was against practices of Commonwealth countries, which allow such orders only to be used in the next sitting," she said.
She has accused Jubilee Secretary General Raphael Tuju of remaining mum over the matter. "He should have intervened on behalf of our party leadership. However, Tuju did not even try to find out what had transpired in the assembly on the day I was removed," she said.
Elachi joined calls for a referendum, saying it would improve representation and ensure inclusivity.
"It is only through a referendum that all communities will enjoy the country's leadership. We all want one of our own at the top," said Elachi.
She graduated with a Bachelor of Arts degree in peace and security studies from Africa Nazarene University in Nairobi.
In 2017, Beatrice won the Jubilee Alliance primary elections in the Dagoretti North Constituency, in April but in the August 2017 general election, she lost to Paul Simba, the incumbent.
On 6 September 2017, having been dully nominated, she was elected speaker of the Nairobi County Assembly, and was the incumbent ,as of January 2018.
On 6 September 2018, after being accused of conflict of interest, undermining the Authority of the County Assembly Board, abuse of office, gross misconduct and failure to show leadership, she was impeached as the speaker of Nairobi County Assembly.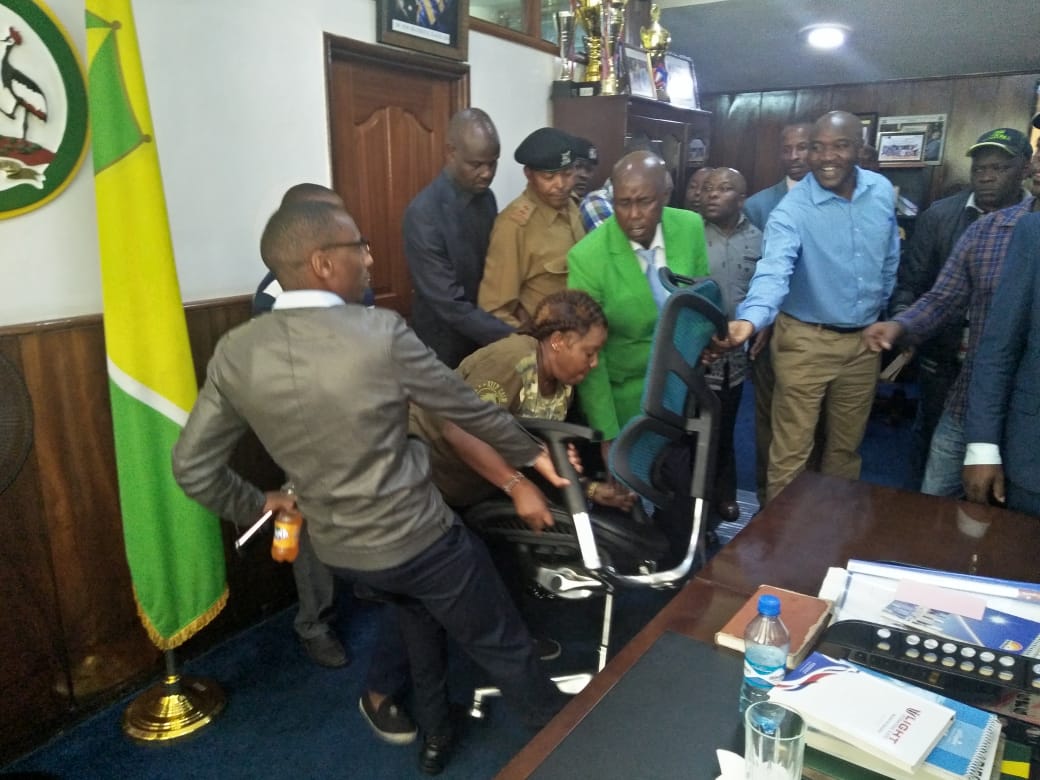 Among the reasons why she was impeached include the fact that while Ms Elachi said she was in the US for a Diaspora women network conference, MCAs claim she was travelling for a plastic and knee surgery.
The reps said their surgery claim was backed by an insurance claim from CIC Insurance totalling Sh 1 million, whose payment was similarly "procured through deceit and intimidation".
She is also accused spending public funds on a visit to Dubai, UAE, to ostensibly receive "a fake honorary doctorate degree from the 'London Graduate School', which is affiliated to a 'Commonwealth University', a university suspiciously registered in Belize, a tiny country in central America, and run from Nigeria.
Here, Ms Elachi is alleged to have paid a sum of Sh 550,000 of taxpayers' monies, as part of a suspicious "Dubai Leadership Summit," knowing fully aware the costly and fake degree was a ploy by "Nigerian fraudsters in what are commonly known as 419 scams".
Renowned media personalities such Mr Larry Madowo and Mr Boniface Mwangi even highlighted in their social media platforms when they received similar invitation letters from the Nigerian scammers to pay to receive the honorary doctorate.
Between Raphael Tuju and Elachi who do you think has selfish interests?