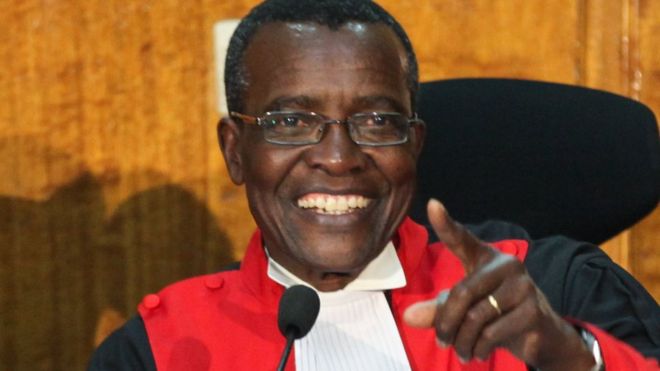 Being a staunch Seventh Day Adventist he categorically stated he cannot work on Saturday in line with his Sabbath day Adventist faith and confidently refused to compromise church for work.This move was not only bold but also admired by many.
Justice David Maraga has however also spilled the beans about his naughty side.The highly respected Kenya's chief justice while speaking to young minds has opened up about his past narrating his path of darkness and being lost in alcoholism and how it immensely affected his life
"Let me first tell you a little about my life's story and from it you will no doubt see how amazing God's grace will always be. I was baptized and joined the Seventh Day Adventist Church in 1965 while in primary school," Maraga said.
The 67 year-old admitted he lived a confused life for 20 years and would often ignore his family completely.Chief Justice David Maraga has revealed that he used to be a drunkard and how this almost ruined his life.
The CJ stated that while in high school, he slipped spiritually and was introduced to alcohol drinking by bad company.
Maraga said quitting wasn't easy especially with peer pressure. He eventually attained his Masters degree 34 years after his undergraduate​ he was narrating his past story at a recent graduation ceremony.
"However, I got into bad company in secondary school and slipped in the spiritual sense. While in the bad company, I drank hard and except for providing for the bare necessities, I ignored my family and literally mark timed for about 20 years. I did not bother to further my professional career," the CJ added.
Poor drinking habit saw him losing interest in his career growth and development to a point his family almost gave up on him.
He further spilled  that his life took a different turn after he heeded his conscience which was calling him back to become the model Christian he had been raised to become.
He later joined the University of Nairobi where he advanced his education.
In 2003, former president Mwai Kibaki appointed Maraga as a High Court judge where he worked his way to the Chief Justice job he holds today.
Lucky Maraga who was able to unlock the chain of addiction from himself as many young men still tied to the bonds cant help but waste time and resources that could be utilised for the greater good of the society and their families.