Kenyans on Twitter have showered Director of Public Prosecutions Noordin Haji with all kinds of praises after the arrest of Deputy Chief Justice Philomena Mwilu. Some even went further to ask the no-nonsense  DPP to arrest William Ruto.
In the end, DPP Haji will arrest William Ruto. It's now clear that no one is above the law in Kenya.

— susan njagi (@SueKE254) August 28, 2018
Justice Mwilu was arrested at the Supreme Court on Tuesday Afternoon and will answers charges on misuse of office and tax evasion.
"The evidence in our possession, reveals that: Lady Justice Mwilu abused her office for personal gain. Accepted a gift in the form of money in circumstances which undermined public confidence in the integrity of her office, conducted herself in disregard of the law. In view of the above, I have concluded that the evidence is sufficient with a reasonable prospect of conviction and it is in the public interest that criminal proceedings should be preferred," reads part of the DPP's statement.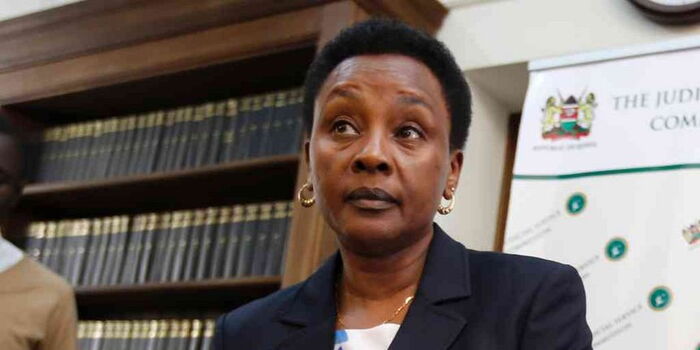 And now Kenyans are wondering where Haji was all this time when they were being persecuted by run away corruption.
'Where was DPP Haji all these years? Is he even Kenyan?. Everything looks likes a dream' Kevin Teya asked on Twitter.
Where was DPP Haji all these years? Is he even Kenyan?. Everything looks likes a dream

— Ole Teya (@Kevin_teya) August 28, 2018
Here are some of the reactions from K.O.T
DPP Haji and DCI Kinoti personally went to the Supreme Court and arrested Deputy CJ Philomena Mwilu and left with her to the DCI Headquarters.

That's VVIP Class arrest.

— J.B Kenya™ (@JohnBosco_Juma) August 28, 2018
In 2022 who wld y rather have as president ???

1.DPP HAJI

2.WILLIAM RUTO

Retweet for DPP like for ruto!!!!
__________________________________
Philomena mwilu
supreme court
imperial bank pic.twitter.com/AXwp6sIHOj

— ping pong #2⃣5⃣4⃣?? (@pauliddiali) August 28, 2018
DPP Haji is the sheriff in town. The makimende himself. Ordering an arrest of a governor (Garissa Governor Ali Korane), supreme Court judge Philomena Mwilu is a big deal. I hope, Keriako Tobiko is taking notes to improve his work in the ministry of environment.

— Elijah Okemwa (@elijah1334) August 28, 2018
Kenyans,
You clapped when Kidero was arrested.
You clapped when CS Kamau wa arrested.
You clapped when Swazuri was arrested.
You clapped when Tarus was arrested…but its "revisiting" when Deputy CJ Philomena Mwilu is arrested, what kind of poison did you take for lunch?
DPP Haji pic.twitter.com/6WuZfwNfxW

— INCREDIBLY TERRIBLE (@allen_arnold) August 28, 2018
H.E "DPP Haji" should now move his anti-corruption net towards traffic cops who collect bribes openly @KenyanTraffic It's time we sanitise roads in 254

— Jazzy jeff (@njuguna254) August 28, 2018