The last 24 hours have provided Kenyans with some memorable moments. First, Marathon Legend Eliud Kipchoge became the first man on earth to run a marathon in under 2 hours at the INEOS 1:59 challenge on Saturday.
On Sunday, Brigid Kosgei broke the women's marathon record at the Chicago Marathon. The record has stood for 16 years! Her time of  2:14:04 is 81 seconds better than Paula Radcliffe's record set in 2003.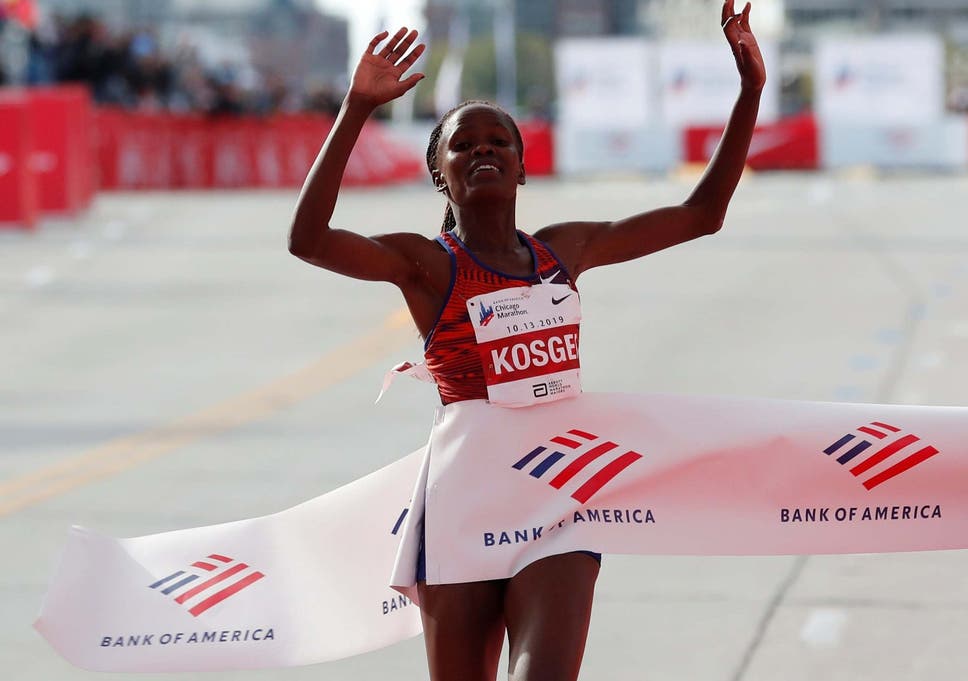 Kenyans took to social media to congratulate Kosegei on her historic feat.
Just another day for another Kenyan to break a marathon record. Nothing much. Congratulations, Brigid Kosgei!

— thedugout.co.ke (@ilfabiano) October 13, 2019
What a Moment to be alive!!
What a Weekend for us in Kenya!!!
Congratulations our own BRIGID KOSGEI for winning #ChicagoMarathon2019 and setting up new world record.
Kenya is proud of you pic.twitter.com/VrpNnHwKWs

— KIPLETING MANUELA LE MAGICIAN (@ItsTheMagician) October 13, 2019
Saturday, Eliud Kipchoge, world's Greatest Marathoner became the first athlete to run a marathon in under two hours.

Sunday,Brigid Kosgei smashes Paula Radcliffe's women's 16 year old marathon world record in Chicago.

What a time to be a Kenyan 🇰🇪🇰🇪🇰🇪🇰🇪🇰🇪#ChicagoMarathon pic.twitter.com/0PlZsvMwEq

— Pye Waw (@pyewaw) October 13, 2019
Eliud Kipchoge has inspired many. I am sure Brigid Kosgei was motivated by yesterday's #INEOS159.
It shall be remembered that I lived in the time of the greatest Kenyan athletes. What a time to be Kenyan!#BrigidKosgei pic.twitter.com/mYDDt36CQv

— Brigid Kosgei has proved No Man is Limited! 🇰🇪 (@BrianSikulu1) October 13, 2019
Meanwhile, the National football team was their usual selves and were beaten on home soil by Mozambique in a friendly match played at the Moi International Sports Center Kasarani. Francis Kimanzi's team was poor all trough and conceded in the 68th minute after a mistake from JosephOkumu was duly punished by Cumbane Kama-Komo.
Kenyans were disappointed, to say the least.
congratulations Harambee starts for not surprising us by wining anything,we would die #harambeestars

— Rabet (@RabetMr) October 13, 2019
Congratulations harambee stars (for losing with only a 1-Goal Margin.)
We have no time to get mad of you.
We're in mood of celebration, the best we can offer is just ignoring your mediocrity.#harambeestars

— NGEЯEWANI 🐦 (@NinazAnto) October 13, 2019
Our gallant marathoners are out there breaking world records while #harambeestars are busy breaking our hearts 💔 #ChicagoMarathon

— Mathias Ndetà (@ndeta_) October 13, 2019
Kenya's National Football team, is the only negative results we have as a country this weekend. Serves to remind us that, life has negatives and positives.#HarambeeStars 🇰🇪 0-1 🇲🇿 Mozambique

— Peter Aming'a (@Peter_aminga) October 13, 2019
Others are breaking records but #harambeestars is breaking our hearts nkt

— Jotham Rajoro (@wuon_taji) October 13, 2019
Kenyans were enjoying sterling performance by our athletes from Eliud Kipchoge's insane run In Vienna to Brigid Kosgei breaking Paula Radcliffe's 16 year old Women marathon world record and someone just decided to bring the #HarambeeStars stories. Sad

— Atanas (@_Atanasi_) October 13, 2019