Manchester United midfielder Paul Pogba has received worldwide support from fans after suffering racial abuse since missing a penalty against Wolverhampton Wanderers on Monday night.
United got a good chance to bag three points at Molineux Stadium to go top of the table but blew it out when Pogba's powerful spot-kick was saved by Wolves keeper, Rui Patricio, who guessed the right way and kept the ball out to preserve the 1-1 draw.
And a section of fans who were disgusted with the penalty loss took it to social media to racially profile the Frenchman.
Racism is disgusting 🤮🤮🤮. #istandwithpogba pic.twitter.com/Tg6cfxfRrz

— Mbangula Lameck Amugongo (@lamechthinkbig) August 20, 2019
The racism in this app🤬#SayNoToRacism#istandwithpogba pic.twitter.com/S5SywjuqM4

— Odyssey (@ule_mse_) August 21, 2019
Manchester United had come out to express their disgust with the racial abuse aimed at the 26-year-old midfielder.
"Everyone at Manchester United is disgusted by the racial abuse aimed at Paul Pogba last night and we utterly condemn it," United said in an official statement.
BREAKING: Manchester United say they are 'disgusted' by the racial abuse aimed at Paul Pogba on social media after last night's draw at Wolves.

— Sky Sports News (@SkySportsNews) August 20, 2019
"The individuals who expressed these views do not represent the values of our great club and it is encouraging to see the vast majority of our fans condemn this on social media also.
"Manchester United has zero-tolerance of any form of racism or discrimination and a long-standing commitment to campaigning against it through our #AllRedAllEqual initiative.
"We will work to identify the few involved in these incidents and take the strongest course of action available to us. We also encourage social media companies to take action in these cases."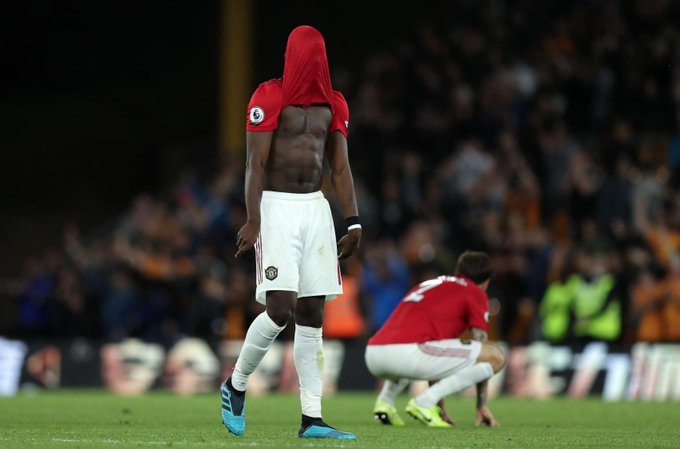 Fans have also joined the campaign against the online racial bullies in a trending hashtag #istandwithpogba 
The abuse he has received has been a disgrace and shouldn't be allowed to continue. #SayNoToRacism #istandwithpogba pic.twitter.com/8xaGqAgzia

— Raz🇬🇪 (@MartiallBaller) August 20, 2019
He's one of us. It's in our clubs name. Together we are United to remove racism from our club, our sport and our society. #istandwithpogba #AllRedAllEqual pic.twitter.com/txge2tcqyK

— Maxine Kingston (@missmaxineutd) August 20, 2019
The most unnecessarily disrespected man in football. #istandwithpogba pic.twitter.com/ubqU5u8ReB

— James (@_jameshussey) August 20, 2019
He is one of us.
He is human.
Moreover, black does not crack🙌#istandwithpogba pic.twitter.com/7RKR0LXgu7

— Mugambi Harmaton 🇰🇪 (@TryMugambi) August 21, 2019
All Muslims stand with you bro pic.twitter.com/EqfbglzxIw

— Love United (@MhdUtd) August 20, 2019
After how much shit @paulpogba has been through with the constant scrutiny by the media, shit pundits going ott on everything he does and then finally the racism by low life brainless key board warriors, I really want him to do so well for us and shut them all up #istandwithpogba pic.twitter.com/YpgfzBITJj

— Silent_Assassin 🕷🕸 (@AWB29_) August 20, 2019
He is not guilty if he missed a penalty
Enough is enough 😤😤#istandwithpogba #SayNoToRacism pic.twitter.com/x66wEEwq5a

— 😶 ANISSOVIĆ 😶 (@Anissovic_045) August 20, 2019
Paul Pogba, Man United Player. He Didn't Choose Birth Place or to be Black. He's 25 Years Old. Doesn't drink. Doesn't Smoke. Raises Money for Charity. Fluent in 3 Languages. Scores in World Cup final. World Cup Winner 2018 🥇#istandwithpogba #SayNoToRacism pic.twitter.com/1YT6xl0IqM

— Gerald Ngao 🇰🇪 (@geraldngaopk) August 20, 2019
I support Chelsea and can never support Manchester United but I will never stand to support Racism #istandwithpogba #SayNoToRacism pic.twitter.com/0M5eRYMVpB

— Back in Time (@BuziBrown) August 20, 2019
Pogba is the latest player in English football to suffer racial abuse on social media after a match. Last week, Chelsea's young striker Tammy Abraham suffered the same after missing a penalty against Liverpool in the Super Cup final in Istanbul.
Reading midfielder Yakou Meite was also subjected to racial abuse after a 3-0 win over Cardiff in the Championship.
Cases of racial abuse have been rampant in football lately and action needs to be taken before this stain completely destroys the sport.