Nairobi Governor's Daughter Saumu Mbuvi came out advising young girls to take it slow when it comes to relationships. She regretted how she blew away a golden chance of going on with her studies simply because at 21 she felt that she knew everything.
"sometimes i say to myself I wish I knew better….."
Saumu wrote!
Love knows no religion, it's what makes us whole time for. Life is too short learn to put yourself first. To young girls don't rush it, sometimes I say to myseldf I wish I knew better. I had options of going on with my studies but at a certain age you think you know everthing, but you are wrong. Being so dependent on a person can also bring lack of respect, be street smart, hustle ni hustle, whether you are selling mitumba or handbags as long as you have something small for yourself.. with your own money no one can disrespect you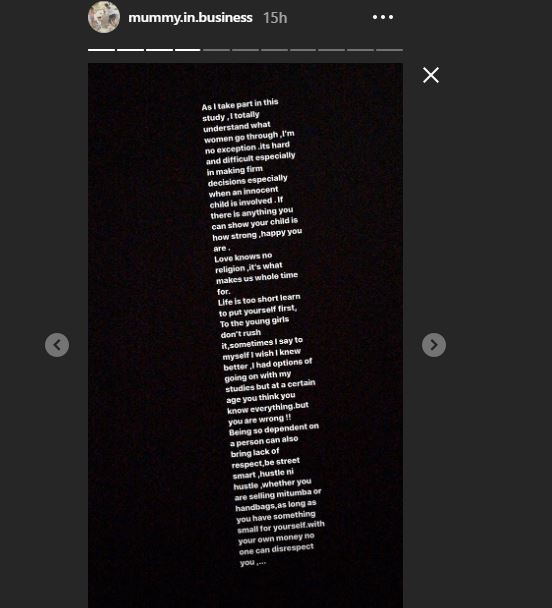 Saumu wrote.
Revealing that she got into a relationship with her Baby Daddy while she was only 21, Saumu recalls how abusive the union was such that she had to take depression pills to hang in there.
Taking to social media Saumu also advised women to conquer the fear of walking out of abusive relationships citing herself as an example.
…Let me use myself as an example, my first relationship I was only 21 young and naïve, thinking the relationship would lead to marriage. It totally damaged me and left me on depression pills for a while, the same fear of being judged is what I had until I choose myself and my child's happiness over everything. Most women should know that if your kids see you physically abused all the time, all they will know is violence, it will damage them psychologically. My second relationship at 23, at least with a bit of experience, anything that involved violence, was a no for me. I was stronger and didn't care how many would criticize me, my health and happiness come first and that of my daughter
Saumu wrote.