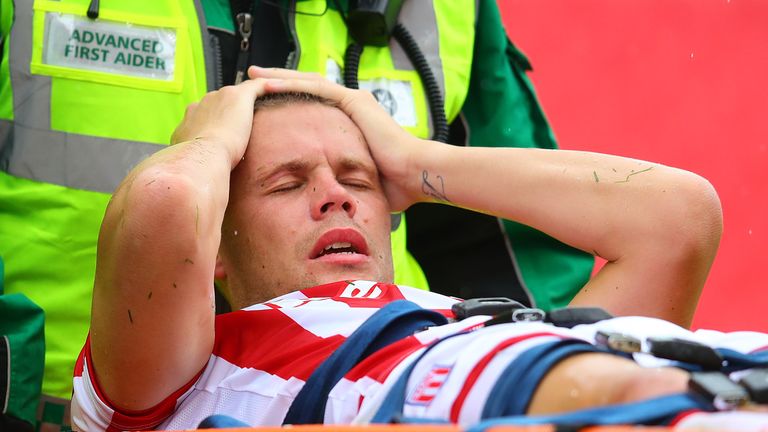 Stoke City defender n club captain Ryan Shawcross suffered a horrific injury that saw him break his let leg on Saturday. The player was sliding into a challenge in a pre-season friendly when the unfortunate injury happened.
The incident brought back nasty memories of 2010 when his tackle on Arsenal midfielder Arron Ramsey broke the Arsenal man's leg almost into two halves. The Internet never forgets and as always, countless reactions from the Stoke City's leg break were recorded through various Social media accounts.
Karma?
Stoke fans crying and complaining about Arsenal fans laughing at Shawcross' broken leg, when they literally made up a song about Aaron Ramsey is the biggest hippocrisy.

Usually there's no excuse for laughing at a player getting a horror injury, but in this case call it karma 🤷‍♂️

— LaporteBread 🍞🇩🇰 (@LaporteBread) July 28, 2019
I know a few Arsenal fans are celebrating that Shawcross has broken his leg but no player deserves it tbh. Hate stoke fans for booing Ramsey but hope Ryan is ok and gets better soon.

— P™ (@SemperFiArsenal) July 27, 2019
Arsenal are a club of class, all the best to Ryan Shawcross, hope he recovers quick.

— Next Generation Arsenal 🔴⚪️ (@scoutingindoors) July 27, 2019
Well..
Karma is a bitch. I am not going to gloat. What just happened to Shawcross is horrible and you don't wish it on anyone.

But Ryan, maybe now you will understand why Ramsey responded to you the way he did.

Oh, and you, @stokecity fans? You can fuck right off.

— Nate Smith (@nws13) July 27, 2019
Heard Ryan Shawcross broke his leg and hope he comes back stronger. As for Stoke the football club… I hope your team ends up in Sunday League 😁

— Frimpon (@FrimponOnline) July 27, 2019
A a result of the break, Shawcross will miss a very large chunk of Stoke City's season. The Club is currently in the second tier of English football, the Championship.
I'm not gonna laugh because I'm a bigger man than that…

But karma is a real bitch, Ryan Shawcross.

— Deaghan (@CSFDean) July 27, 2019
Silence…
Shawcross. Stretchered off. I prefer not to speak.

— FK ☕️🐍 (@fkhanage) July 27, 2019