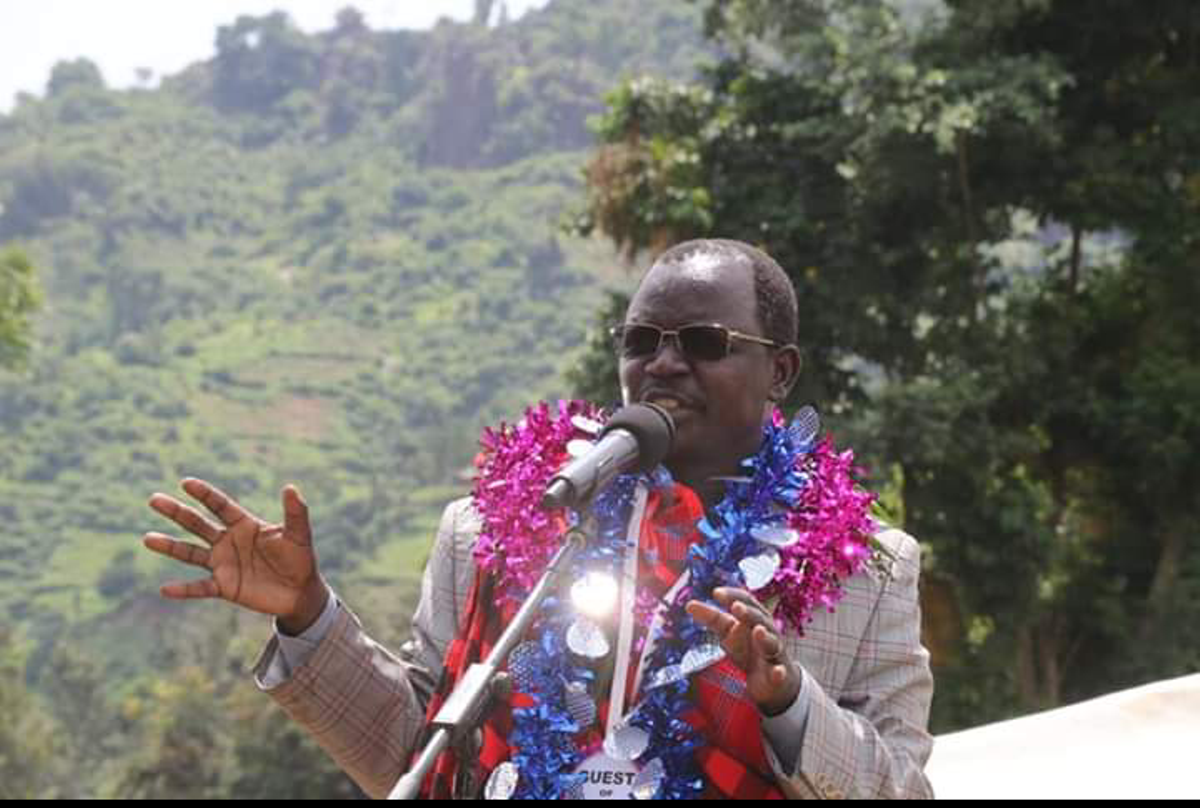 West Pokot County governor John Krop Lonyangapuo has blasted Thirdway Alliance party leader Ekuru Aukot's Punguza Mzigo Initiative saying the 2017 Presidential candidate was building castles in the air.
While responding to Ekuru's initiative which is already gaining momentum after approval by the IEBC upon meeting the required threshold of 1 million voter signatures, Lonyangapuo observed that Ekuru should have instead concentrated on bettering the lives of his Turkana county residents first before embarking on National Matters.
"He is hovering around the country with papers wanting to change the constitution. Mi nataka uliza huyu mtu, ata amesahau mahali Lodwar hiko. Watu wanaumia njaa huko na hataki kusaidiana na kina Nanok. Anataka Kuwa President ya Hewa" said Lonyangapuo in Swahili.
His sentiments were however not welcomed by some Kenyans who have shown their interests to stand with Aukot's Initiative. Some termed Lonyangapuo's sentiments as just a mear funny joke they are used to hearing from him.
West Pokot county governor John Krop Lonyangapuo weighs in on Ekuru Aukot's Punguza Mzigo proposal saying
" Anataka kuwa president ya hewa "#WeekendAtOne pic.twitter.com/CowbO0gxl4

— ktn (@KTNKenya) July 21, 2019
Lonyangapuo's sentiments come at a time Elgeyo Marakwet Senator Kipchumba Murkomen has already shown his interests to embrace Ekuru's Initiative saying that it was good for the nation as it was going to empower those who had for a long time been despised citing the case of county MCAs and the electorates.
The Outspoken Senator stated that by supporting the Referendum push which is proposed by Dr Ekuru Aukot the MCAs will be able to stamp their authorities.
MCAs have the greatest opportunity to stamp their authority by supporting @EAukot 's Punguza Mzigo initiative. MCAs have been despised for far too long. They should approve it overwhelmingly to remind all&sundry that devolution&its institutions matter.Forward the baby to Senate

— KIPCHUMBA MURKOMEN, E.G.H (@kipmurkomen) July 20, 2019
Murkomen claimed that the MCAs have been despised for quite some time being viewed as "junior lawmakers.' He added that the quest for a better devolved system in the country has also been at stake.
In what was seen as undisputed move to have the Punguza Mzigo initiative sail through, Murkomen who wondered why the women MPs were unhappy with the initiative that was highly favouring them said that the Women leaders should be at the front pushing for its approval in the 47 counties..
Why are Women MPs unhappy with Punguza Mzigo yet Ekuru Aukot has retained 47 Women Reps in N/A and reduced Men Reps to only 47? The proposed Women Senators up to 47…Tweeted Murkomen
Why are Women MPs unhappy with Punguza Mzigo yet @EAukot has retained 47 Women Reps in N/A and reduced Men Reps to only 47 ?The proposed Women Senators up to 47 @EstherPassaris @WahomeHon @susankihika @MarthaKarua

— KIPCHUMBA MURKOMEN, E.G.H (@kipmurkomen) July 21, 2019
This Punguza Mizigo Bill 2019 has given us Kenyans two clear choices:
1. To be on the dinner table as a *Diner* or;
2 To continue being on the dinner table as a *Meal*
The choice is ours!

I support your initiative,my women rep will support it

— Eldoret Pundit (@ItsMagoiJnr) July 21, 2019
Women are their own worst enemies because familiarity breeds contempt.

— kipkoech mitei Rober (@MiteiRober) July 21, 2019
Ignorance and hatred just because is not the handshake team who have sponsored the bill,

— Simon En (@SimonEn41381782) July 21, 2019
This is the best bill to say the least. Devt at the ward level is the mashinani as we know it-the smallest unit that every nekesa resides. I signed n will vote for it.

— Waswa Sitati (@ekhafu) July 21, 2019