A true friend is the one who can stand up and defend you when enemies try to attack you. He/she will come to your rescue even when you are on the wrong. While these Kind of friends are so rare Akothee madam boss has proved to be a true friend to boss lady Zari Hassan.
Drama ensued on social media between Akothee, and Diamond's alleged side chick -Vivian, after Vivian rubbed Akothee the wrong way when she tried to troll Zari on Akothee's Instagram Timeline.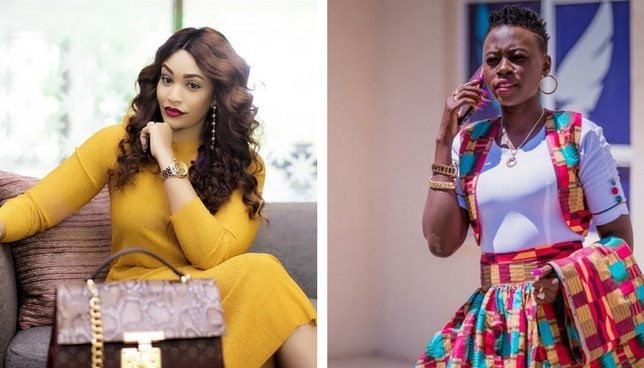 As usual, Akothee woke up in high spirits on Sabbath day and shared a video of herself spreading her bed while humming and dancing to a gospel Luo song.
She captioned her video with these words;
If you promised to get married in 2019 , you have 5 months to go , let no one waste your time 🤔🤔🤔🤔 show us your husband biiiiitch we are waiting
Akothees words evoked reactions from Zari's haters who came out asking Akothee about King Bae and Zari. The first person to comment on the post was the alleged Diamond's side chick Vivian who has been accusing Zari of stalking her and copying her hairstyle.
In a rather sarcastic tone, Vivian told Akothee it is time Zari revealed her own man
In King Bae's voice *thiva are you driving* @akotheekenya where is @zarithebosslady king Bae🤣 we are tired of seeing shoes and beards and fingers of different men!5 months to go 😂
Vivian seems to be a good stalker of zari because she knows how King Bae speaks.  in her comment, she referred to this particular video where King Bae was engaging Zari's children in a car about driving. Listen to King Bae's voice
Vivian's comment angered Akothee who came out breathing fire on her and every other person who talked ill of Zari.  Take a look at Akothee's responses to Zari's haters.
@vivafabrica you Just want to see the man, maybe yours is cheating on you, do you give us pressure from insecurity 🤣😂, show us your broke bae mbura
@mariesuzieq where is your life , personally as a person, how many men did your own mother sleep with , idiot , even Thelma in your house now is nit the one who broke your virginity , umbwa
Here is the screenshot