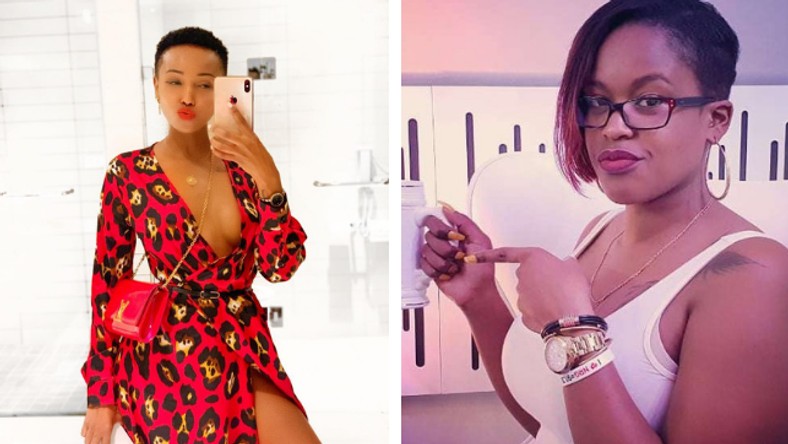 The beef sparking between outspoken radio girl Kamene Goro and socialite Huddah Monroe has not started today. The two have been in loggerhead for some time and it has been evident from their social posts attacking each other.
It all started in March 2019, when Socialite Huddah Monroe hit headlines for advising all women to give men a punishment of a good dry spell by denying them conjugal rights, through the viral Funga Duka challenge.
Inspired by a story of a lady whose man had cheated her with a trail of other women, Huddah wrote this!
There is no way these men will be playing with us. Caro has said she is closing shop and I have also decided I'm closing shop. I am urging every chick out there to close shop and let us see where these men will go. If they can not change, let them go get Samanthas or they go look for Arimis they sort themselves,"
Huddah wrote.
After some time Kamene Goro came out gun blazing to Huddah accusing her of misguiding women while she had amassed a great deal of wealth by trading S*x.
So while I was away, I hear there was something called Funga Duka' that began, so Huddah Monroe has decided to go on a nationwide campaign telling ladies to close their shops to the boy child. Huddah is going to tell you that, that is her business. This babe has bought a car, house, built an enterprise from her shop(duka), now she is the one going to tell you that, the campaign is called what? Huddah? That's who you guys are listening to?"
Kamene wrote
Now History just repeated itself after Kamene Goro and Huddah hit headlines after Kamene threw shade on Huddah's lavish lifestyle and her source of income.
The fact remains huddah us muuch better than kamene gogo😂😂😂😂😂😂😂😂😂😂https://t.co/vx1EHMvubN heres full video pic.twitter.com/tWSDJiM5tn

— 4TH ESTATE (@4THESTATE3) 3 July 2019
"A girl with standard three English has an apartment in Kileleshwa… what are you selling apart from k*****? What do you think she is, a lawyer?"
Kamene attacked Huddah in the video.
Well, Huddah responded back calling Kamene a peasant. Here is the response.
Well, their beef aroused reactions from the public where people claimed that the two had personal issues to deal with. Netizens revealed a lot about the two saying that Kamene had no moral authority to throw jabs at Huddah while she walked the same path before.
Some claimed that Kamene had served over 27 men and it was unfair for her to judge Huddah. The dram continued until it sparked a debate about who is the best between Huddah and Kamene Goro.
Following the online debate, this is what Netizens said about the two ladies.
Netizens vote
Kamene is the whole package, brains kiasi plus playing ground bigger.
Kamene Goro is just jealous.. If you'd know how to maintain your pudesh like Huddah you'd be achieving more than you are… If i hire a Royal Royce na nibuy mzinga ya 17k si obviously nitakuteka.. Shhh!!! pic.twitter.com/Y6bdRwIF5c

— Mwangi shem (@Mwangishem1) 3 July 2019
Huddah and Kamene Goro are competing who's downstairs has been stroked vigorously………This is pure madness, their tools of trades are hollow and don't have grip.

Pelekeni hizo mitaro zenyu uko! pic.twitter.com/7L1eKbQJ0Z

— Cyprian Nyakundi Escobar (@CisNyakundi) 3 July 2019
Can't compare Safaricom'Huddah' and telcom'kamene'
.Huddahs body is fire..still, a thot though 2.Kamene has swallowed a mattress?
Msupa ni Huddah buda
Huddah rolls like a boss✌
She has completely invested in herself💪
Meanwhile there are bitches and boss bitches😁
And Monroe issa Boss Bitch😏
We all know that🤓 pic.twitter.com/jatBsmg1GQ

— Britney Michelle (@OwanghB) 3 July 2019
Who is Kamene Goro or Kumeme Guro??? Whatever your name is. Please keep off Huddah Monroe. You aint even 10% of her beauty. pic.twitter.com/VqYZnU17j7

— Husband Material (@vini684) 3 July 2019
Maybe Kamene Goro is going after Huddah because she knows huddah offers better products than hers, how else would you explain huddah getting a house in kileleshwa and her being dumped over whatsApp!🤷🏿‍♂️

🤣🤣🤣 pic.twitter.com/Li8thD9q3c

— ping pong official 🇰🇪 (@pauliddiali) 3 July 2019

According to the statistics, Kamene Goro lost almost Netizens find Huddah Better that Kamene.