Equity Bank Kenya and Toyota Kenya Ltd have signed a partnership agreement that will see customers get up to 95% financing payable within 60 months on the single cab Hilux pickups.
At the launch ceremony, Equity Bank Kenya Managing Director Polycarp Igathe indicated that the Bank is excited to be partnering with Toyota, one of the biggest automobile companies globally, to provide the much needed financing to businesses and individuals who may wish to expand their businesses but face financial constraints.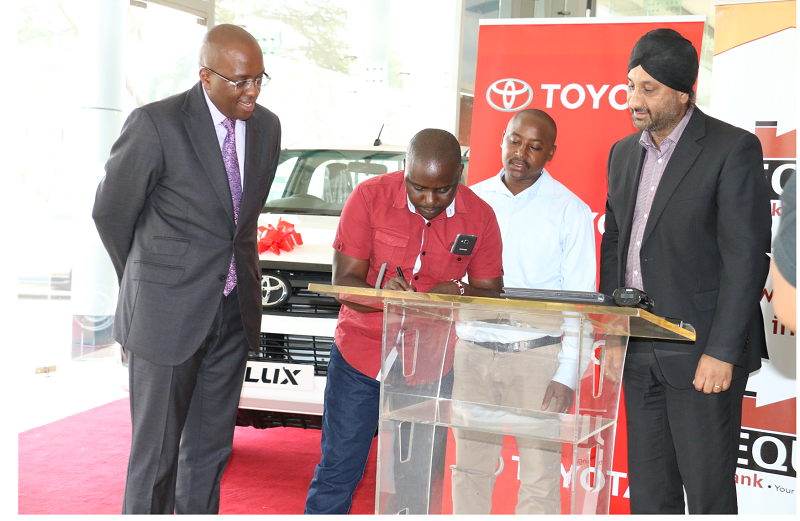 "We share a common goal with Toyota which is to empower SMEs and those in the agribusiness value chain from farmers to processors. This partnership will go a long way to enable easier and more convenient access to finance. We are always looking for ways to add value and provide affordable and flexible financing solutions to our customers and Kenyans," said Igathe.
Toyota Kenya MD Arvinder Reel said: "The financing partnership with Equity Bank marks a special moment for us as we celebrate 50 years of Toyota Hilux, a vehicle that has over the years been known as one with an untouched legacy and unrivalled toughness. It is in this spirit that we continue offering customers easier options to purchase top quality, durable and reliable vehicles while ensuring they love the Toyota Kenya experience."
Equity Bank is giving customers who qualify for the financing, a 90 day holiday before they begin repayments. In addition, customers who purchase the Hilux single cab vehicle under the partnership terms also have an opportunity to choose between a 1 year free maintenance service from Toyota or 1 year comprehensive insurance from a reputable underwriter, as part of the deal.