The African Cup of Nations tournament is now weeks away from kick off! Africa's biggest football showpiece event is scheduled to kick off on the 21st of June in Egypt. 24 nations will be battling it out on the pitch be crowned as the Kings of African football.
Below we have compiled 4 of the best matches from recent tournaments…
Egypt 1-0 Ghana, 2010
It's a little curious that Egypt dominated the Cup of Nations in the late 2000s, winning in 2006, 2008 and 2010, but they made little impact on the world stage: despite their continental hat-trick, they didn't even qualify for neither the 2006 nor the 2010 World Cups. Still, this trio means they must be regarded as among the greatest teams Africa has ever produced, a treble completed in 2010 when they beat Ghana in the final.
A goal from substitute Mohamed Gedo, which made him the tournament's top scorer, was enough to claim the trophy, lifted by captain Ahmed Hassan. That was Egypt's seventh crown, a record: Hassan alone has as many as the next closest challengers, Ghana and Cameroon, with four.
Zambia 0-0 Ivory Coast (Zambia won on penalties), 2012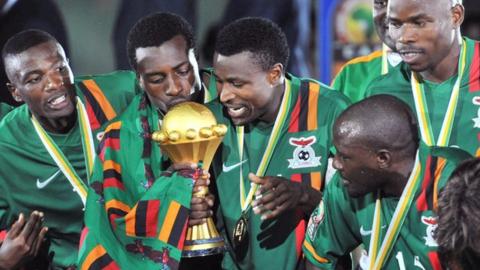 It was touch and go whether Zambia would make it out of their group in 2012. But partly thanks to a calamitous tournament by Senegal, they did and they would be underdogs all the way to the final. Ivory Coast were destined to win their first tournament since 1992 as a golden generation of Didier Drogba, Gervinho and the Toures, Kolo and Yaya, finally looked set to succeed, but one fairytale was usurped by another. The final was an unbearably tense encounter but remained goalless and went to a penalty shootout.
Zambia missed one but Ivory Coast sent two astray. Led by manager Herve Renard in his pristine white shirts, the Zambians prevailed and dedicated their win to the team of 1993, killed in an air crash just miles from the stadium in Libreville. The sight of Renard carrying injured defender Joseph Musonda to join in the celebrations was the enduring image of the tournament, perhaps even the footballing year.
Cameroon 2-2 Nigeria (Cameroon won on penalties), 2000
The Cup of Nations has seen dynasties: there was Egypt in the early years, Ghana in the 1960s, and Cameroon at the turn of this century. Cameroon won two cups in a row (both on penalties) but while the second final was a staid affair, the first was a frantic, intense and controversial encounter against Nigeria. Cameroon went 2-0 up in the first-half through Samuel Eto'o and Patrick M'Boma, only to be pegged back not long after half-time, one goal coming brilliantly from Jay-Jay Okocha.
No more goals meant a penalty shoot-out and after Kanu missed, Nigeria looked in trouble, particularly when Victor Ikpeba's effort was ruled out after hitting the bar and bouncing back into play. Yet replays showed that Ikpeba's effort had actually crossed the line and when the shootout eventually ended in Cameroon's favour, Nigeria fans invaded the pitch and were repelled by tear gas and riot police.
Ivory Coast 0-0 Ghana (Ivory Coast won on penalties), 2015
The actual game wasn't much to get excited about: as many finals are these days, it was 120 minutes of goalless football that not many will remember with much clarity. But the penalty shoot-out that followed was extraordinary, dramatic and utterly implausible, and made up for the match that preceded it. Ivory Coast goalkeeper Boubacar Barry was only in the team because of an injury to first-choice Sylvain Gbohouo and was a much-maligned, even comic, figure.
But after Wilfried Bony and Junior Tallo missed their first two kicks in the shoot-out, someone had to do something, and that someone was Barry. He saved two penalties and after the second, from his opposite number Brimah Razak, he converted the decisive kick and became the most unlikely hero imaginable. Ivory Coast won their first Cup in 22 years and Renard became the first manager to win the trophy with two different teams, after his success with Zambia three years earlier.