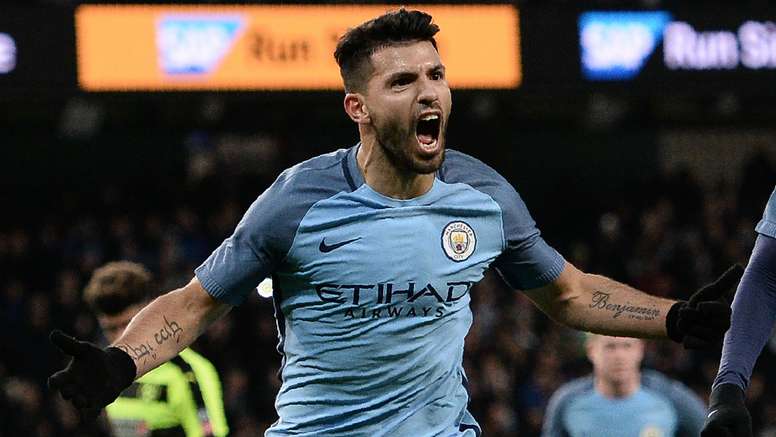 Sergio Aguero has denied saying the winner of the Ballon d'Or should be given to a player who features in the UEFA Champions League final and backed Lionel Messi to win the gong.
Marca quoted the Manchester City striker as saying: "I think that to win the Ballon d'Or [you] have to be in the Champions League [final] no matter what."
That would exclude Messi, whose Barcelona side crashed out of the semi-final at the hands of Liverpool, who will take on Tottenham Hotspur in the final.
However, per Goal's Michael Plant, Aguero tweeted:
"I do not like having to go out and clarify but when words are attributed to me that I never said, I have to do it.
"To be clear, and I always answered the same, while Messi continues to play, and especially how he has played this season, he deserves to win the Ballon d'Or."
Since 2014, the winner of the Ballon d'Or played in the team that won the Champions League that year.
Cristiano Ronaldo won in 2014, 2016 and 2017 after Real Madrid's victories, Messi took it in 2015 after Barca beat Juventus, while Luka Modric won in 2018 following Los Blancos' win against Liverpool.
Messi was, remarkably, well off the pace in last year's voting, as sports writer Ryan Taylor observed:
Six goals for Lionel Messi against Premier League clubs this season, yet people wonder whether he could do it in England? Imagine him against the likes of Huddersfield & Fulham…

— Ryan Taylor (@RyanTaylorSport) May 1, 2019
The Argentinian has been in sensational form in 2019 and helped the Blaugrana win La Liga, and they're in the final of the Copa del Rey, too.
Perhaps the only player from Liverpool or Tottenham who has been good enough to rival Messi for the award this year is Virgil van Dijk.
A defender hasn't won the Ballon d'Or since Fabio Cannavaro in 2006, but Van Dijk didn't let a similar issue stop him being named the PFA's Player of the Year last month, per football journalist Richard Buxton:
Virgil van Dijk becomes the first defender since John Terry (2005) to win the PFA Player of the Year & the eighth different #LFC player to win the award

— Richard Buxton (@RichardBuxton_) April 28, 2019
Given the recent link between winning the Ballon d'Or and the Champions League, Barcelona's failure in Europe will likely hinder Messi's chances, even if he has been head and shoulders above his peers once again.
The Copa America and the UEFA Nations League finals are still to come at the end of the season, though. Messi will take part in the former, while the likes of Van Dijk and Ronaldo will play in the latter.
Although team silverware shouldn't necessarily matter too much when it comes to an individual award, the outcomes of those tournaments might also have an impact on the voting this year.