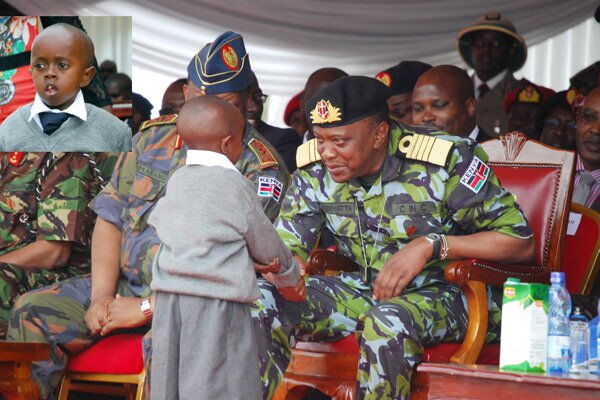 When news broke that the mother to the boy who presented a thrilling poem rejected a house from The President, it set the country ablaze as one could not believe why anyone in their right mind would do that.
Later, the woman, namely Damaris Wambui would explain that the house's standards were not up to par as would be expected, as if someone had been occupying it.
It has now been established that the said house built on orders from President Uhuru Kenyatta for the Nakuru woman has never been used, The Standard reports.
During a visit to the house yesterday, painters were doing final touches on the exterior of the two-bedroom house constructed as a reward to the family of Dennis Ngaruiya who in 2014 presented a poem before President Kenyatta at 3 Kenya Riffles barracks in Lanet.The presentation earned him and his mother Damaris Wambui an invitation to Statehouse where he was rewarded with a scholarship and promised a home.While the President has religiously paid for Ngaruiya's school fees who was then a class seven pupil and now in Form Four, the promise for a home has been controversial with his mother, Damaris Wambui recently rejecting the house.
"That is not the gift the President meant for my son and I. It has cracks and looks more of a semi-permanent house. It was occupied before by a disabled person and was only refurbished," Wambui told the press last week.
Residents of Murunyu area however dismiss Wambui's claims.According to Isaac King'ori who lives close to the proposed home, the land on which the house sits was subdivided in 2015 and construction started in 2016.
"The house was constructed on land that had been idle for years after subdivision into eight plots. I visited the site severally in 2016 out of curiosity on the technology that was being used," said King'ori.
He added that he has been waiting since then to know who would be their new neighbour for years and no one except government operatives and the contractor have been spotted at the site.
"After the house was completed, bush grew around it. No one has ever lived in it. We never knew who owned it until we saw reports in the press that the intended owner had rejected it".
"There was no sign of life in the home. Some of the waste generated during its construction was still there indicating no one had ever used it," said Mwangi.
"Local administrators have since visited and ordered for the bushes to be cleared," he added.James Mwangi, a community policing leader who is also in charge of Murunyu Community Water Project said he supervised connection of water to the home last year and it was deserted.
While Wambui claims that the house was substandard and constructed using waste paper, The Standard established that the contractor used polystyrene technology which is gaining traction in the housing sector, globally.