A mysterious gunman who was photographed rummaging through a garbage bin has sparked suspicion.
The photos which were uploaded on Facebook show the man in gumboots using an object to go through a trash bin, with a pistol protruding from his waist.
The images caused a debate where people were trying to figure out the identity of the individual.
Some argued that the man could be an undercover police officer who was going through waste for evidence.
"Stop concluding negatively, that must be a police officer looking for something," Julius Arap Tarus commented on the photo.
Another user, Tertula Wangari, suggested that the man could have been a DCI officer who had arrived in a black vehicle that was parked nearby.
A section of netizens, however, wasn't convinced the man was a police officer.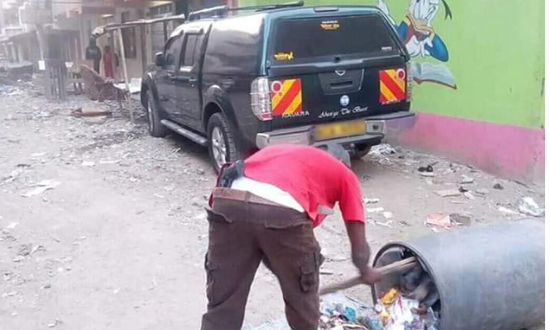 They argued that a diligent officer would not expose his weapon in the manner which the unidentified man had.
"Those saying he is an undercover police officer, let me enlighten you. Any armed police or even licensed civilian arm holder should at all times conceal their legal firearms and an unconcealed firearm is criminal," challenged Samuel Njuguna.
James Mbuthia also poked holes into the allegations that the man was a police officer by explaining that the pistol was tucked on the left side of his waist instead of the right side, which would make it easier for him to use if something came up.
See some comments from Facebook on the photo below