Are you in need f a smart driving licence? Well, if you are, kindly book an appointment with the National Transport and Safety Authority (NTSA) from tomorrow (Thursday) for the issuance of the same.
NTSA has directed that the appointments should be made through the applicant's Transport Information Management System (TIMS) account, the NTSA said in a notice on Wednesday.
TIMS is a self-service portal on the NTSA website.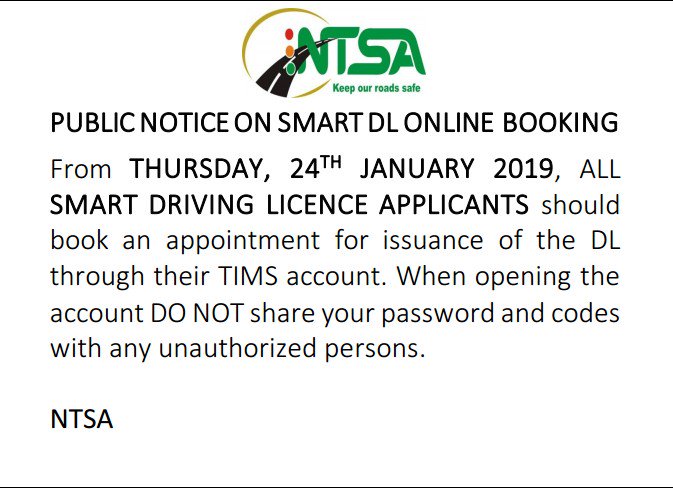 NTSA said the applicants should adhere to the rules and regulations before going to their offices.
The government rolled out the new smart driving licences in March last year after testing was completed.
The new smart card costs Sh3,000 and will be valid for three years.
The licences will have electronic chips with all details of drivers, much like ATM cards.
Public Notice on #SmartDL booking pic.twitter.com/yLhmL9oKnW

— NTSA KENYA (@ntsa_kenya) January 22, 2019
TThe cards will also have details of names, blood type, biometric information and offences committed.
Each card has 100 points and points are deducted when traffic offences are committed.
If the driver reaches the threshold of 40 points, the licence will automatically be cancelled.
The driver can only reapply after six months, a regulation that amounts to suspension.
After the three years, holders will apply again for new permit