Manchester City's owners got their anniversary party in the end, although it threatened to be a muted celebration for much of the evening.
When Pep Guardiola called for a match-winner, he was answered by a man who had not scored for almost three years. Kyle Walker's low 25-yard shot, early in the second half, brought a laboured victory and kept his team on the tails of Liverpool and Chelsea.
A game they looked well set to win comfortably became a struggle after DeAndre Yedlin equalised with his first Premier League goal. City are managing to keep on totting up the points, even if they are having to dig them out at the moment.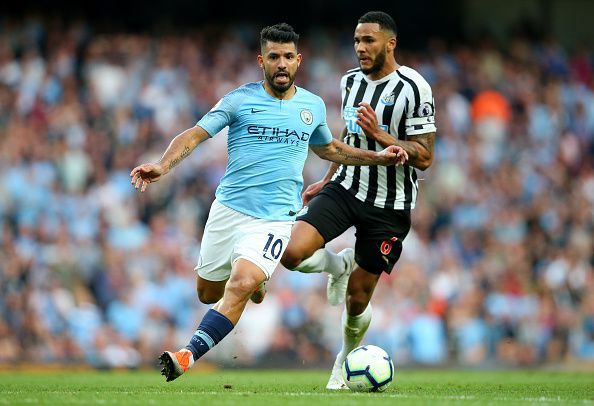 It is easy to forget, though, that there was a time when City would have taken such a victory, against opponents widely expected to spend the winter fighting relegation, without a grumble. That all started to change 10 years ago yesterday, when the Abu Dhabi United Group bought the club and, with unprecedented investment, slowly began to transform them from also-rans into serial winners.
City now expect success, rather than dream of it. Hard-fought home wins over Newcastle are no longer in themselves a cause for celebration. For Guardiola, it was more a sense of relief.
"The goal we conceded, we defended very badly," Guardiola said. "But we did not concede one more chance against a team who live for the counter-attack. That's why our performance was quite good, especially in the second half, where we did not let them run. It was a good result."
Not everything is running smoothly for City at present; the issue of Leroy Sane is becoming an increasingly difficult one for Guardiola. The forward, having been recalled to the Germany squad during the week after missing out on the World Cup, was not even included on the bench for his club on Saturday night. Guardiola is understood to have been unhappy with Sane's performances in training, although publicly he is playing that down.
"Last weekend, Phil Foden was not in the squad," Guardiola said. "I was so sad for Phil, as I am so sad for Leroy now. We decided for this game that he would not be there. He must try to work hard again and in the next games he will be ready to play."
It was Raheem Sterling, the man selected in the left-sided attacking role that Sane filled so well last season, who broke down Newcastle's massed defence with just seven minutes gone. The visitors did not help themselves, with Jamaal Lascelles playing an awful pass in the edge of his own penalty area, enabling Benjamin Mendy to intercept and feed a pass left to Sterling, who cut inside and curled a shot into the far corner. It was a ruthless finish and a fine way to mark his 100th Premier League appearance.
Yet even with his team in front early, Guardiola was not happy. He was animated in his technical area, urging his players to show more movement off the ball. He believed his team were too static and his concern was justified as the half progressed.