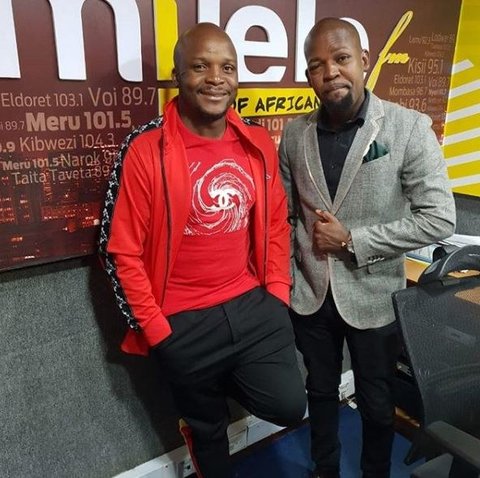 Milele FM co-host and comedian Jalang'o has made a special request to fellow comedian Mulamwah and other people who are dealing with cyberbullying.
Sharing on their morning show, the duo ganged up to advice on how people should deal with haters and trolls thrown at them.
Putting into consideration that social media has not been kind lately, both Jalas and Mwakideu have a solution on how to cope with the negativity.
Jalango's statement came hours after comedian Mulamwah called it quits and burnt his signature jacket over online trolls.
"Mulamwah amefunguka na kusema kuwa watu wengi wanafanyia kitu inaitwa cyber bullying and trolling. Jana aliweka picha ya kuhuzunisha akichoma koti lake ambalo anatumia kwa ucheshi wake akisema nimefika mwisho. Muamwah ni vizuri kusema, vizuri kuongea na ni vizuri kulia. Unapo nyamazia inafanya upatwe na depression. Sisi tumetukanwa hadi saa hizi tumezoea."
Jalas felt what Mulamwah was undergoing, especially when he admitted that his girlfriend lost their child three months into the pregnancy. He said the stress from constant trolling on social media played a huge part in the loss of his baby and that changed him forever.
View this post on Instagram
"If it's something you love doing you should never give up. To those who were asking Mulamwah to Man up..No! Even men are allowed to cry and they are allowed to open up. Lakini zungumza, usinyamaze pekee yako hadi inafika unachoma nguo zako na unawachana na comedy." added Jalas.
Jalang'o also asked victims of cyber bullying to reach out to more experienced guys, for instance, Mulamwah would have hit either Jalas or Churchill up and talked to them instead of choosing to give up.
In his response, Mulamwah reacted to Jalas post with a caption: "Asante Sana jalas , can't and I won't give up . On to the next step now 💪🙏"
Below were some reactions from the post:
wfiddy
I hope he hears this n takes action, he needs to go back like never before,huwezi mwachia Shetani atawale njia ambayo umeifungua/imefunguliwa kwa ajili yako already. Talking to people and abit of thick skin to social media trolls will help.

Saw his post last night and I felt like crying, we can't loose such good talent because of some keyboard warriors who don't have anything good to do with their lives other than get in the nerves of others. I pray that God will give @mulamwah peace at this time and courage for him to come back. He has fans out here the one's cyber bullying him are just a small number. Soo sorry for what happened though,😔