Nairobi Governor Mike Sonko's fate is currently hanging in the hands of  Nairobi MCAs as an impeachment motion is ongoing in the County Assembly.
The governor was barred from office following charges of money laundering,unlawful acquisition of property as well as irregularly awarding of tenders to his close aides, forging documents and misappropriating of county funds.
On Thursday an impeachment motion was tabled against Sonko by Makongeni MCA Peter Mwatok amidst uproar from a section of MCAs.
The Nairobi County Assembly Minority Whip's presentation was temporarily disrupted before Speaker Beatrice Elachi intervened and ordered a section of the rowdy MCAs, including Roysambu Ward Representative Peter Mwatere, out of the House.
One MCA was kicked out by Speaker Beatrice Elachi, amid shouts of "point of order" as Imwatok read out the motion, outlining grounds for Sonko's impeachment.
"This will not be a house of shouting. It will be a house where we use the rule of law," Speaker Elachi remarked when ordering MCAs to let Imwatok finish reading his motion.
"There will be no point of order as he issues a point of order", she said.
The grounds for impeachment outlined, include gross violation of the Constitution and Public Finance Act 2012, inability to control and manage public debts and clear pending expenses, exhibiting incompetence and inability to offer leadership, willingly failing to name a Deputy Governor with an ulterior motive of holding the county at ransom.
MCAs will debate the motion after 7 days, during which the Governor will be given a chance to argue his case.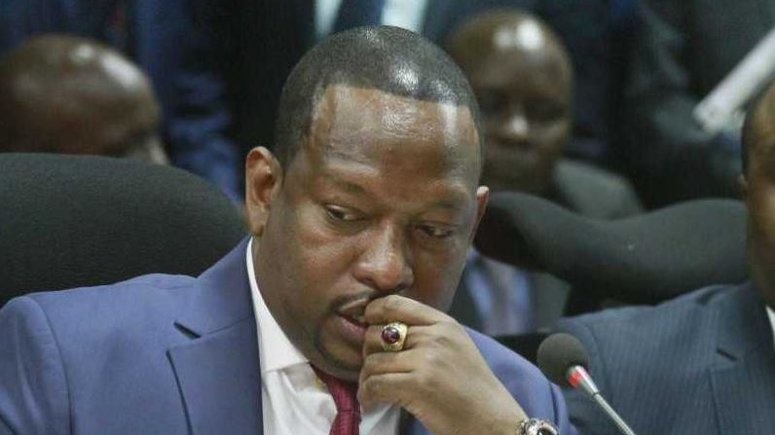 Once the motion is placed on the order paper, it shall be disposed of within three days.
Under Article 181 of the Constitution, a Governor can be removed from office over gross violation of this Constitution or any other law, where there are serious reasons for believing that the county governor has committed a crime under national or international law, abuse of office or gross misconduct and physical or mental incapacity to perform the functions of office of county governor.
A great number of MCAs signed up to impeach Governor Sonko before the motion was tabled in the Assembly on Thursday.
68 out of 85 MCAs (80%) signed to impeach Nairobi Governor @MikeSonko before motion was tabled in the Assembly pic.twitter.com/npAuFQHLGe

— Robin Njogu (@robinnjogu) February 20, 2020
If impeached by the County Assembly, Sonko will have a chance to argue his case at the Senate.