She is almost there!
Deputy Governor nominee Anne Mwenda Kananu has finally been cleared by IEBC.
Her name has now been forwarded to the Nairobi County Assembly for vetting before she is appointed as the new Nairobi Deputy Governor.
During her IEBC clearance, she was looking super hot and beautiful. She was dressed in a navy dress that was filled with white prints and paired with a red belt that accentuated her African waist. The appointed Deputy governor's style seems to be a little bit extra though. I noticed she matched her red belt with her blazer.
I found her look classy and extra! She looked ready to start working and help the Nairobians live better.
I love that she is conscious of her sense of style. It's bold, elegant, trendy with a touch of class. How can we forget her natural face beat? She looked gorgeous.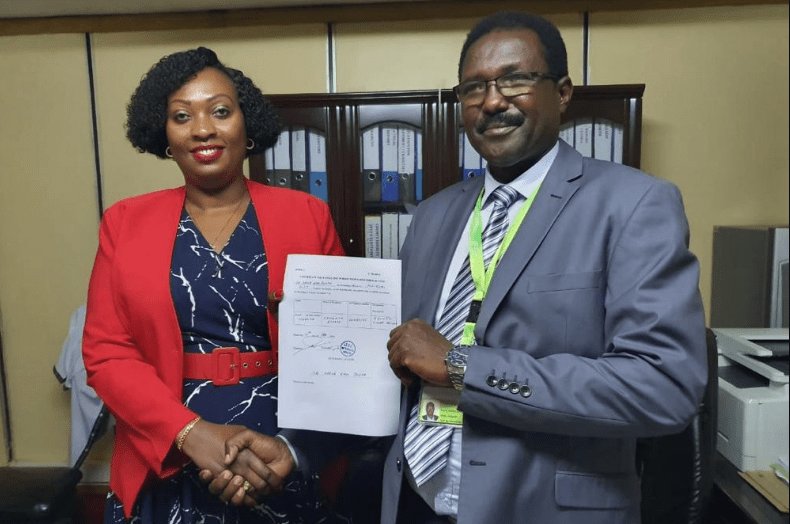 Anne Mwenda was working at the Kenya Airports Authority as a Security Supervisor in charge of quality control. She has been there for 13 years now.
For her appointment to go through, the IEBC has certain guidelines when nominating a deputy governor. They include;
Governor must first submit the nominee's name to it for vetting
Once the name has been received, the commission shall appoint a returning officer and a deputy to vet the proposed nominee, pursuant to provisions in the Constitution and statutory qualifications.
The commission normally issues the nominee with a clearance certificate and a copy forwarded to the governor.
Later on, the governor can forward the nominee's name to the county assembly for vetting, deliberation and possible approval.
Once the nominee has been approved by the county assembly, the speaker forwards to the commission the assembly's written resolution with recommendations approving the nomination.