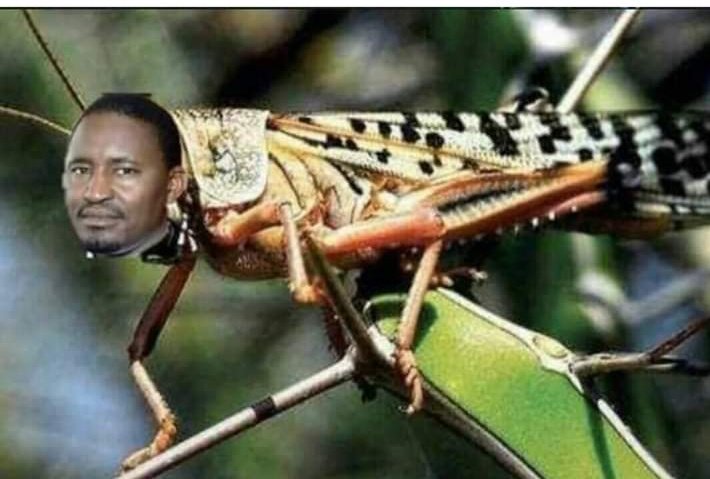 Twitter is on fire after President Uhuru Kenyatta dropped Mwangi Kiunjuri as Agriculture Cabinet Secretary in the new raft of changes.
Kiunjuri has been hitting the headlines and trolled ever since locust invaded some parts of the country and netizens believe his failer to control locusts is one of the reasons why he was fired.
Here are some of the hilarious memes that will brighten up your day.
Never underestimate the power of locusts. They cost Mwangi Kiunjuri's job. 😂#UhuruAddress pic.twitter.com/Fa2QnwnrSU

— Victor Mochere (@VictorMochere) January 14, 2020
The more things CHANGE the more they remain the SAME!#CabinetReshuffle#STATEhouse
Mwangi Kiunjuri
President Uhuru Kenyatta#uhuruaddress pic.twitter.com/M7GJY9UjNS

— MWANANCHI (@mwana_nchi) January 14, 2020
MWANGI KIUNJURI has now joined his swarm of locusts after being fired from government!
🤣🤣🤣#UhuruAddress pic.twitter.com/ziCvc2IcWr

— Mozzart🇰🇪 (@pinngponng) January 14, 2020
From the Mwangi Kiunjuri's Sacking I've learned that no one should ever under estimate the power of locust 😂 pic.twitter.com/UpKXmEHSKV

— ÑÉGÀGÂ 🇰 (@kevinFult) January 14, 2020
Mwangi Kiunjuri: If you see an insect you suspect to be a locust, take its picture and post on social media and we will tell you if it's a locust or not.

Uhuru Kenyatta: pic.twitter.com/ZWoZF78wHC

— Sir Teya (@Kevin_teya) January 14, 2020
"Mwangi Kiunjuri" AKA the "Rocusts" has been fired. Should we continue sending the pictures ?#UhuruAddress pic.twitter.com/qFpwzgXxjS

— Shiundu Shiundu 🇰🇪 (@IvanEvans_Kenya) January 14, 2020
THANK YOU GOD. MWANGI KIUNJURI GOOD BYE.

the locust can now go back pic.twitter.com/xzdROFySaL

— KIPROTICH (KIP) (@KIPniKIP) January 14, 2020
Congratulations president Uhuru Kenyatta for firing mwangi kiunjuri this fellow has cost more harm in agricultural sector more than his fellow locust #UhuruAddress pic.twitter.com/GAM0fjmXhF

— Karis Junior (@Karisjunior7) January 14, 2020
✔️SHUDREN
✔️ROCUSTS
✔️RAIRA
✔️AFRATOXIN

PRESIDENT UHURU KENYATTA HAS TODAY SAVED ENGLISH BY FIRING MWANGI KIUNJURI!

ASANTE SANA!

GOOD STUFF!!! 👏👏👏#UhuruAddress pic.twitter.com/xzWiGjtIp7

— Mozzart🇰🇪 (@pinngponng) January 14, 2020
Oya, Mwangi Kiunjuri before you go, a quick one. Which animo is this #UhuruAddress pic.twitter.com/nrcpD3Xttb

— Don'carlos Wamae (@dwamae_) January 14, 2020
Confirm. Where should we place Mwangi Kiunjuri ..?
I'm not getting you,did you say Tango or Tanga …Tang…. shsssssss pic.twitter.com/1us5imO87G

— Ki-Thunder (@AncestorsOf) January 14, 2020
Dear President #UhuruKenyatta , thank you for sacking Mwangi Kiunjuri … Now this should be followed with charging the Moron with economic crime together with his masters pic.twitter.com/EQvth7mPxo

— MugamboWaAfrica (@MugamboWaAfrica) January 14, 2020
And the locusts have fed on one Mwangi Kiunjuri #cabinetreshuffle pic.twitter.com/0pzy9dP7f3

— Fredrick Njagi (@Fred_njagih) January 14, 2020
These locusts are still roaming. I remember the government said it needed ksh250million to contain the locusts. But word from the ground is that there is absolutely nothing happening. The locusts are moving on majestically. Mwangi Kiunjuri is openly incompetent. pic.twitter.com/EaHpEkDS74

— Abraham M. Mutai (@ItsMutai) January 13, 2020
The more things CHANGE the more they remain the SAME!#CabinetReshuffle#STATEhouse
Mwangi Kiunjuri
President Uhuru Kenyatta#uhuruaddress pic.twitter.com/M7GJY9UjNS

— MWANANCHI (@mwana_nchi) January 14, 2020