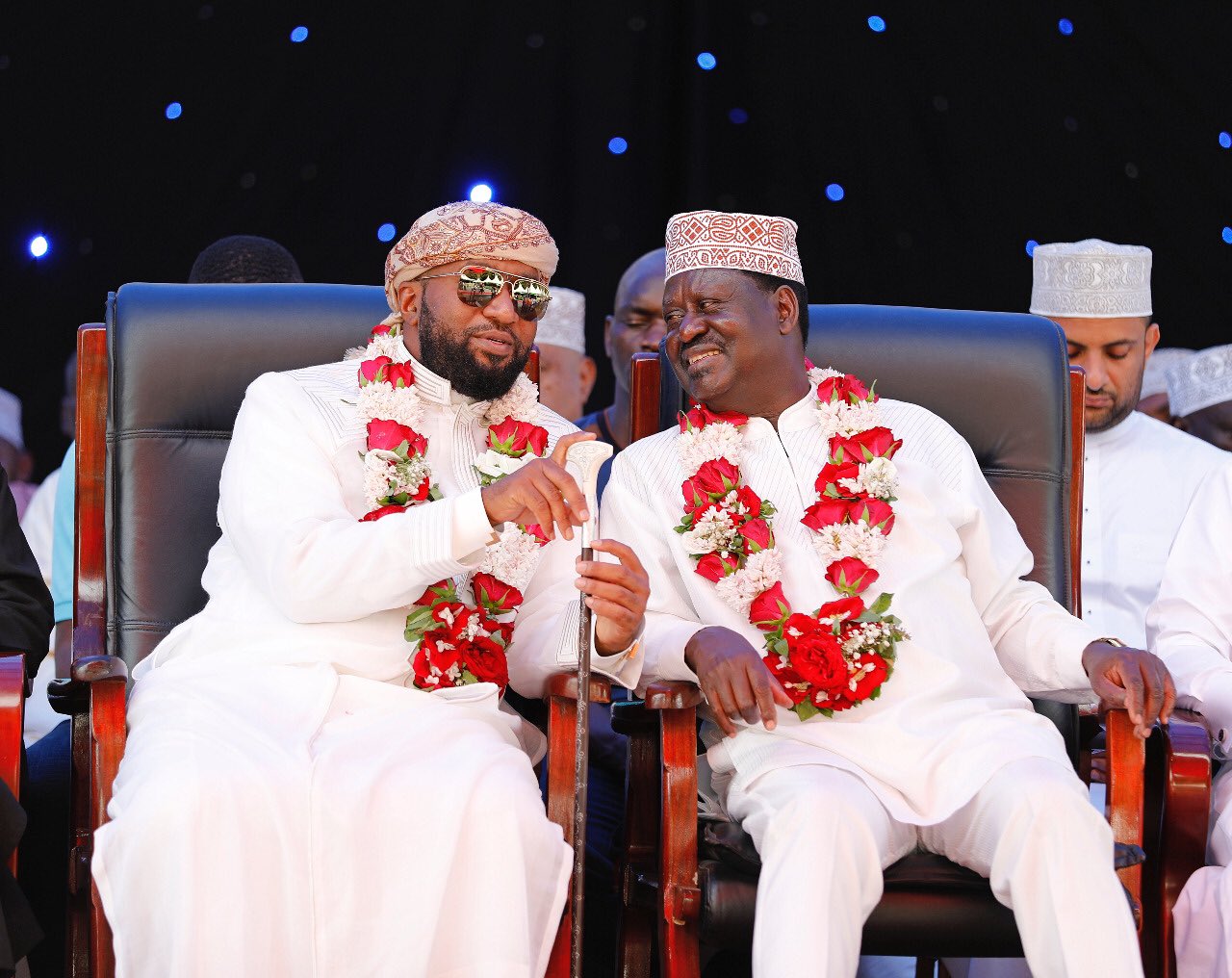 Kenya's former Prime Minister Raila Odinga has been showered with praises by Kenyans as he turns 75 years old today.
Warm birthday wishes for the influential politician have poured in across all social media platforms thus breaking the internet.
On his birthday last year, he threw a lavish bt intimate party in Mombasa County. The celebration was graced by President Uhuru Kenyatta who was in the county to commission the rehabilitation of the Mama Ngina Drive.
Also in attendance were Mr Odinga's wife Ida Odinga, his daughter Rosemary Odinga, Mombasa County Governor Ali Hassan Joho, Kilifi Governor Amason Kingi among other leaders.
Under the hashtag #HappyBirthdayBaba, thousands of Kenyans have wished Raila a happy birthday. Check out some of the tweets below:
Happy Birthday Baba, Tinga Tinga, Nyundo, Enigma, father BBI and Handshake, Right Hon Former Prime Minister @RailaOdinga #HappyBirthdayBaba #MIGUNAMIGUNA #kibe pic.twitter.com/0D2QcwBwdJ

— Love child (@lovechildkenya) January 7, 2020
Although Project Kenya is still imperfect and evolving, @RailaOdinga should have pride that he's planted seeds of greatness – Devolution, Justice, Equity & Democracy in it. We will get better as they germinate and blossom. #HappyBirthdayBaba pic.twitter.com/cR5T93XevA

— Suleiman Shahbal (@SuleimanShahbal) January 7, 2020
Happy birthday Jakom. You have been true to the cause of bettering humanity, all your Life. To many more, PM. #HappyBirthdayBaba @RailaOdinga

— Silas Chepkeres Jakakimba (@silasjakakimba) January 7, 2020
On behalf of myself and Governor @AhmedJiir We wish u plenty of joy today n every day,u are a fantastic example of wisdom, leadership, and foresight.On ur birthday, I wish you peace, good health, and happiness. U are the best mentor any1 could have asked for #HappyBirthdayBaba pic.twitter.com/TRuv1JiLyv

— Mohammed Omar hajji (@Abu_madrood) January 7, 2020
#HappyBirthdayBaba @RailaOdinga. Your contribution to the welfare of this nation is unmatched. pic.twitter.com/xCI8Kmdu2G

— Davy Ogara Jnr (@OgaraJnr) January 7, 2020
#HappyBirthdayBaba ! We thank God for you and pray he gives you good health and long life. Blessings on this auspicious day! pic.twitter.com/Qbz86Ty9Q4

— Hon Gladys Wanga, CBS (@gladyswanga) January 7, 2020
#KenyansTBT Young Raila Odinga at the University of Leipzig in East Germany.#HappyBirthdayBaba pic.twitter.com/zYNqD1uCm3

— Kenyans.co.ke (@Kenyans) January 7, 2020
Happy birthday to you baba @RailaOdinga. You faught so hard to make sure kenyans get the democracy they are enjoying now, you were handcuffed, tear gassed, maimed and tortured to fulfill the will of the people. Your memories will forever live to be cherished. #HappyBirthdayBaba pic.twitter.com/ViZN6dIJdT

— Suldan Korow (@korow_suldan) January 7, 2020
A man who sacrificed entirely everything for a better kenya , one of Africa's greatest leader , a Democrat & a liberator , patriot & a true statesman.

We love you Baba , We appreciate you Baba.#HappyBirthdayBaba pic.twitter.com/DSciHNjuQQ

— Thugger🇰🇪 (@JuniorKiddoKE) January 7, 2020
You are the only force existing after gravity.
You made the government demonstrate against the opposition.
You have always wanted a better Kenya for all of us.
Wishing you good health #HappyBirthdayBaba pic.twitter.com/q5D9kQ5Qwr

— FELIX KIBET (@itskibetfelix) January 7, 2020
To many more years Tinga, we love you #HappyBirthdayBaba pic.twitter.com/Cmu9eFSTht

— Lawrence Baraza (@baraza_lawrence) January 7, 2020
To my Party leader and mentor Rt. Hon. @RailaOdinga, a happy birthday. May the Almighty God give you long life and wisdom to continue leading the democratization of our Nation. #HappyBirthdayBaba pic.twitter.com/UAJeg4HEqE

— Governor Hassan Joho (@HassanAliJoho) January 7, 2020