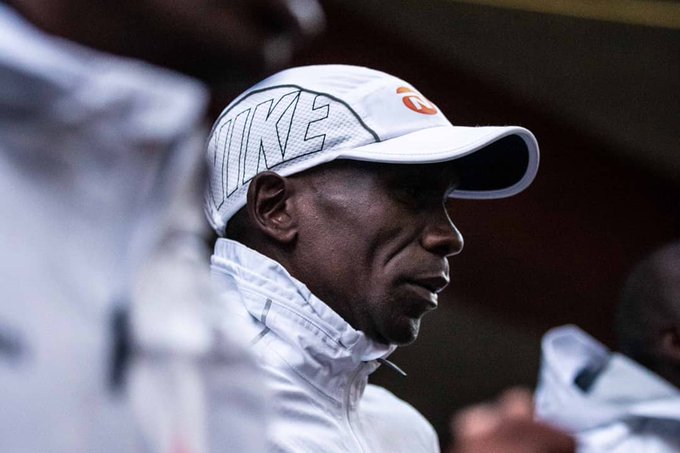 Just hours after world's greatest marathoner Eliud Kipchoge threatened to sue Kenya's NRG Radio for violation of his Branding and Imaging Rights, his lawyer Donald Kipkorir has come out to confirm that the Broadcasting and Media Production Company has complied to the demands set by Kipchoge.
Lawyer Kipkorir shared a copy of the demand letter on his official twitter account. Among the demands Kipchoge had was that NRG radio act and respond to his letter within two hours failure to which he would through his lawyer take appropriate Legal Action.
A twitter user asked Lawyer Kipkorir if NRG Radio had acted within the set two hours with the City Lawyer confirming that they had.
Bel, they complied …..

— Donald B Kipkorir (@DonaldBKipkorir) October 18, 2019
In his letter to NRG Radio, Kipchoge demanded that the radio station does the following.
Expunge his name, images, and reference whatsoever in all their platforms.
Unqualified apology for violation of his rights and misuse of his name, images and reputation.
Written response that they (NRG Radio) have complied to the above
Well, NRG Radio already did away with the name of Kipchoge and resorted to using the 'Mashujaa Radio'. For the past four days, the Almont Park based station has been referring to itself as Kipchoge Radio with all their shows from NRG Transit, NRC Circle to NRG AM Show all replacing the 'NRG' with Kipchoge.
The Station even promised  to gift a BMW i8 to Kipchoge if they hit 1 million Followers.
Their social media handles of Instagram and Twitter also changed name to Kipchoge Radio. This has since been done away with.
On issuing an apology, Lawyer Kipkorir did not share the station's written apology with Kenyans despite calls from a number of his followers that he does so.
He only confirmed that the station complied to their three demands.
Kipchoge's demand letter to NRG radio has been welcomed by many Kenyans while some like Senate Majority Leader Kipchumba Murkomen are not impressed.
According to Murkomen, Kipchoge has been mislead and for that, he took issue with the legendary Marathoner's legal team.
"I would advice Eliud Kipchoge against unnecessary legal battles with entities like NRG Radio merely excited with his fete. It waters down the good name of Kipchoge. Concerns raised shouldn't have been in the form of legal threats. A phone call is enough. He was terribly misled," Said Murkomen.
His sentiments did not however go well with Lawyer Kipkorir who asked him to mind his business.
"My Senator …. Lets have professional respect …. If my client thought you are a better lawyer than me, he would have come to you …. Let's operate on our different lanes! Kindly, act for NGR Radio and we see the outcome," Replied Kipkorir.
Just like other Kenyans, we will be keeping a close eye on getting the exact written copy of NRG Radio's apology to Kipchoge.
For now, let's keep celebrating the great achievements in Vienna as we head for the Mashujaa Day Celebrations.