Television news anchors are known to be the smartest and elegant individuals to grace TV screens.
In some occasions, a few Kenyan news anchors have been exposed for dressing unprofessionally while on air.
While on air, it's difficult for viewers to identify whether an anchor is fully dressed because they are only seen from half-way up.
There have been claims that male anchors in Kenya even borrow outfits from colleagues just before going on air. Among the items borrowed by these newsmen are coats, tie, shirts, wristwatches, sneakers, and even trousers.
Other times, they will not borrow but rather wear casual outfits from the waist-down and have official clothing from their waist up.
Here are some anchors who have been exposed!
Yusuf Ibrahim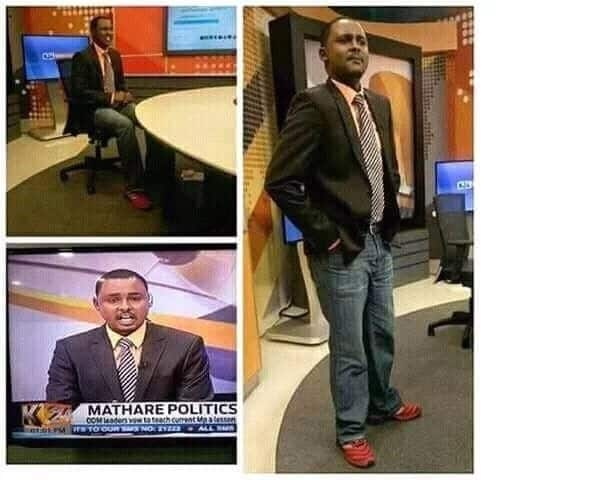 In 2017, K24 news anchor Yusuf Ibrahim faced immense heat from social media after doing his afternoon news while "horribly" dressed. He was in a jeans but looked like he was in a full suit just like any anchor.
Larry Madowo
A few years ago, while still working for NTV Kenya, Larry Madowo shocked Kenyans after he posted a photo wearing a short and coat while on air. He was just about to interview Government Spokesman Eric Kiraithe on corruption for the NTV 9 o'clock news. It was something most people never expected and had netizens excited.
Willis Raburu
In 2018, Citizen TV anchor Willis Raburu was said to have borrowed a coat and a tie moments before he read news. One could hardly tell there was a fashion flop while he was seated, but a studio photo surfaced online proved otherwise.
Raburu is seen in a tie, shirt and black coat on jeans, never before had we seen this kind of fashion in media industry.
Lilian Muli
Citizen TV Presenter Lilian Muli is among the most respected television personalities. The senior reporter wows Kenyans with her accent and mastery of the English language and let's not forget her sense of fashion and charming looks. Thousands of men tune to Citizen TV, not because of news but just to see her, this has made her even more admirable.
Just like other anchors, Lillian has had her fare share of trolls because of her dressing while presenting news.
Surely is that Lillian Muli's dress meant for news anchoring? Impunity in media industry @citizentvkenya

— NANCY OKUTAH (@nancyokutah) April 25, 2014
Janet Mbugua
While still anchoring prime time news on Citizen TV, most of her fans appreciated her dressing, however, she would have a few mishaps that would make her get trolled.
not feeling janet mbugua's dress today.a little too much going on.the optical illusion,the material,the shift design.ah hapana

— Dwayne A-G (@SonOfTyree) June 28, 2012
Anne Kiguta
Television siren Anne Kiguta has been a face that is well known among viewers of prime time news. She has been known for her versatile fashion sense, and we all know why she is in this list. Kiguta, a few times, has dressed inappropriately and people were not happy.
@AnneKiguta Anne Kiguta needs to either have a change of wardrobe or she changes profession .Decency in dressing for news is key for anchors

— geoffrey james (@geoffreyjames9) February 11, 2016