Sir Alex Ferguson was arguably the best manager Manchester United ever had in the Premier League era. He had a successful stint that gave the Red Devils great glory in Europe and the entire world.
A section of United fans usually get emotional at the reflection of his days; his organization, playing style and relationship with his players. In fact, Old Trafford was a dream place for many players.
All that said, United fans were reduced to tears again when his letter to legend Eric Cantona was shared on social media. The Scottish penned down an emotional letter to Cantona on 18 August 1997, bewailing the player's retirement from football.
In the letter, although Ferguson appreciated the star for his contribution to the club and advised him on what to do onwards, he is also seen regretting Cantona's decision to retire since he was a top-class striker at Old Trafford at the time.
Here is the letter;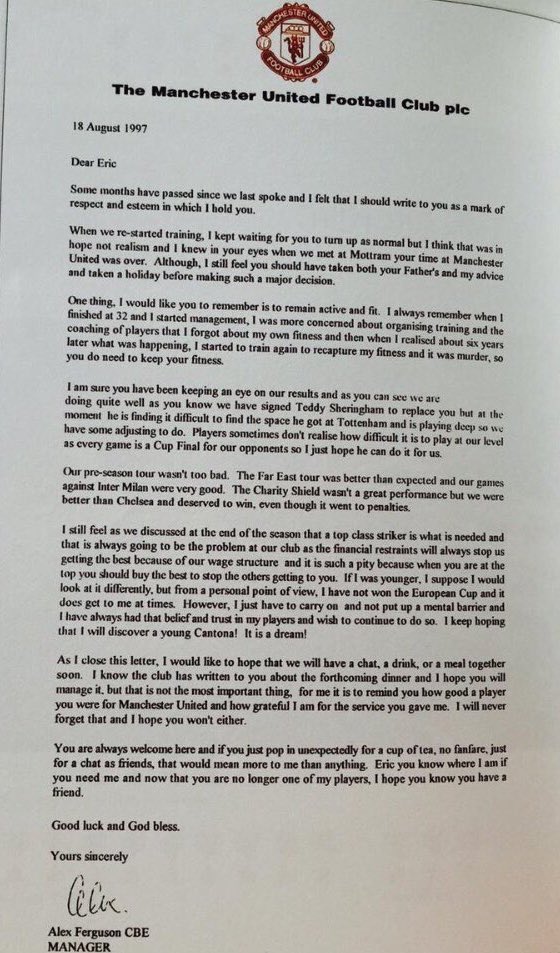 The letter did not leave United fans the same as many confessed that they were shedding tears while reading the message.
Check out some of their reactions;
There wa something in my eye as I read that 😭

— Roy Arnold (@RoyArnold23) August 21, 2019
I read it this morning. It hit me in the feels. I miss this man so much.

— Akes on a plane✈️ (@AkesOnAPlane) August 21, 2019
Would it be strange to name a new ground or rename OT to the Sir Alex Ferguson Stadium when he passes away in 30 years or so? I hope sincerely that day is still ages away… love to see him in the stands home and away

— Leen Peters👹📺🔴⚪️⚫️🔰 (@Peter_Leenen) August 21, 2019
Intetesting he felt he was restricted by a budget even then to get the top players. Shows what a great job he did.

— Jonathan McCready (@JDJMcCread) August 21, 2019
— Jesus H Christ79 (@JesusHChrist79) August 22, 2019
Touch of class there by Sir Alex. This is why players and fans alike hold him in such high regards.

— David Shield (@daveshield) August 21, 2019
The great thing about that letter and the clear frustrations at not winning the European Cup is that he won it not even two years later.

A brilliant manager and a great man.

— Alex (@AttackLikeUtd) August 21, 2019
A letter from the best to the best. pic.twitter.com/Y1UCAX8o7l

— 'Tunde Lamidi-Sanni (@darealboss8) August 22, 2019
That's immense!! Bet he regretted leaving after reading this

— Nathan Jones (@NathJones8) August 22, 2019
wow! most men could only dream to have such a unique personality as SAF's. he said when you're at the top you have to buy the best so others don't catch up….well Mr pep is doing just that on the blue side and it hurts!

— Stanley phillips (@cpt_gozie) August 21, 2019
He Was Really A Great Man. Very Hard To Find These Days. Love Live Manager Alex

— Andrew S Koroma (@AndrewSKoroma1) August 22, 2019
That letter I think sums up everything we think about Sir Alex. The passion for football and people.

— Harry Nannar (@hnannar1) August 22, 2019
In his stint at Old Trafford, a large, physically strong, hard-working, and tenacious forward Eric Cantona won 4 Premier League titles in 5 years, two League, and FA Cup doubles. He won the league championship in seven of his last eight full seasons as a professional. At the international level, he played for the France national team.
Sir Alex Ferguson, on his part, managed United from 1986 to 2013. The greatest United manager of all time won a total of 38 trophies in his 26 years at Old Trafford- 13 Premier League titles, 5 FA Cups, 2 UEFA Champion League titles. He was knighted in the 1999 Queen's Birthday Honours list for his services to the game.