With just three days left to 2019 General Census, Kenyans from across the country have taken to various online platforms to express their views promising to lock out all Census Enumerators from accessing their homes for the two nights of 24th and 25th.
According to most social media users, the exercise is set to be used by politicians for their own political benefits in 2022 elections contrary to what the government is actually saying. Many have vowed to lock out the census personnel as one way of expressing their frustrations over the manner in which the selection process was conducted.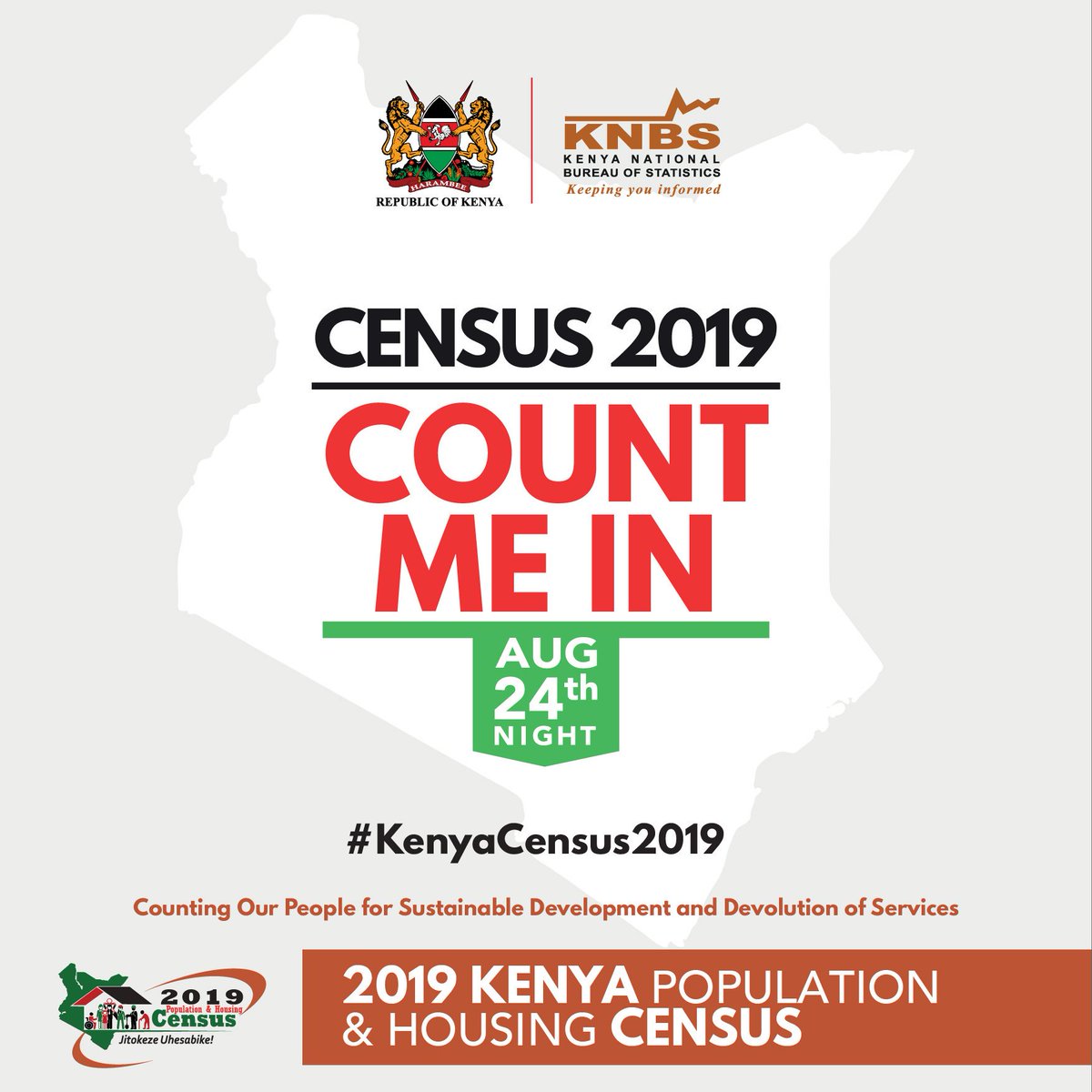 Their arguments have also been heavily supported by the recent Governors and MPs remarks urging Kenyans to return to their rural areas to be counted during the National Population and Housing Census set for the night of August 24/25.
led by the Council of Governors (CoG) chairman Wycliffe Oparanya, the county bosses have asked those living outside their home regions to return home before August 24 to be counted.
#kenyacensus2019 My dad walked miles to check if my name had been shortlisted at the chief's camp. The fury when I missed the job…. Alisema hatafungua gate!! 🤣🤣

— Lydiah N. Kinyanjui 💎 (@LydiahKinyanju4) August 15, 2019
This has however been refuted by the government saying there was no need for Kenyans to travel back to their counties since they were all going to be counted in their current places of residence.
According to the government, the exercise will be used by the national budgetary allocation for planning and equally distributing national resources among all Kenyans.
Many have also expressed their security fears promising not to open their gates for the census personnel on the two nights of 24 and 25 saying that they will not be safe with hosting 'strangers' inside their homesteads at night.
Here are some of Kenya's views from Twitter under the Hashtag #Kenyacensu2019;
I'm not against the upcoming census activities, but I think It should've been carried out during the day because people with bad intentions would take advantage of the situation and even rob people .#kenyacensus2019 #newsgang @citizentvkenya @WaihigaMwaura

— Innocent Ortiz (@innocent_ortiz) August 15, 2019
Instead of knocking my gates to participate in this year's census, I will simply stick my Huduma details on the gate.. #kenyacensus2019 with recommendation, Refer to my Huduma file'.. Kenyans, this if you are not happy with this govt.. show it your middle finger.

— George Kayman (@KaymanGeorge) August 16, 2019
As part of exercising civil disobedience I will not participate in the forthcoming #kenyacensus2019. This govt has reduced young people to beggars by running down all avenues of living a dignified life. It counted us with Huduma number, now census. Are we goats or cows? pic.twitter.com/FpyHApATlW

— Gikonyo Mwangi (@GikonyoWaMwangi) August 15, 2019
I will not open for the Census guys if they are not youth. I will not be counted by people in public service. The youth are demanding for this census Job. No turning back. #kenyacensus2019

— Muli🔰 (@mulidennis1) August 15, 2019
Being Bsc IT holder having all the qualifications required for the IT Supervisor job and being a young Kenyan who hopefully applied and did not get any feedback, I feel pained to hear that people who are already on government payroll got the jobs #Newsgang #kenyacensus2019

— Robert Ouko (@RobertOukoAura) August 15, 2019
In #kenyacensus2019 the youths were seriously considered and awarded handsomely…for this and more jokes SMS the word 'enumerator' to chief 😂 pic.twitter.com/ApAyyMTIzk

— Deon giddy (@__mutua) August 15, 2019
#Newsnight #kenyacensus2019. 2019 census is a sham. Despite my experience as an enumerator in both 1999 and 2009, I was left out in favor of slay queens who have no clue about my area of enumeration.

— Terrific Writers (@HustleHarder03) August 15, 2019