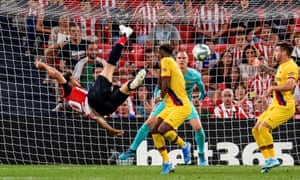 Athletic Bilbao's dressing room was filled with joy and celebration as players gave their veteran footballer Aritz Aduriz a standing ovation after silencing Barcelona in their opener on Friday.
Aduriz came in a substitute and smashed home a scintillating scissor-kick goal in the 89th-minute to hand Bilbao all three points and Barca a shock loss to start the season.
An injured Lionel Messi was sorely missed as a lackluster Barca failed to convert it to 11th consecutive victory in the opening matches of La Liga campaign.
After the match, Bilbao players took it to the dressing room to give the 38-year-old a standing ovation for the job well done and the world-class stunner.
Aritz Aduriz getting a standing ovation from his Athletic Club team-mates 👏pic.twitter.com/Zr1nzJeDaj

— Goal (@goal) August 17, 2019
However, fans gave mixed reactions regarding the celebration as some joined them in the celebration while others quashed them, claiming that they should only celebrate a league title.
Check out some of the reactions;
Worth it 👍

— Dave (@Davedaviies) August 17, 2019
That's goal hurt my feelings

— #teamtacha (@bodewavy) August 17, 2019
It's always a GREAT accomplishment to score in Barca.

— ساجد سواريز. (@SajedM10) August 17, 2019
This man killed Barca, they should get Neymar Asap, they are crap without Messi .

— Danny Ace (@dan_nzioka) August 17, 2019
They look like they have won the league tittle

— m a c D o n a l d (@EphrahimDonald) August 17, 2019
😂😂😂 meanwhile season not over yet

— Arthur Melo (@ArthurM33315454) August 17, 2019
Well deserved

— Mr Big SOMETHING 🥒🍆🍆🥒 (@Idoreny06237499) August 17, 2019
What a goal that was 😍

— Blackboi (@Big_sarz) August 17, 2019
Congratulations aduriz

— Sani Muhammed (@MuhammedBSani) August 17, 2019
Don't kick a dying a horse 😂😂 Messi will be back

— Nakedii (@Nakedii_M) August 17, 2019
On 27 June 2012, Aduriz rejoined his first professional club Athletic Bilbao for a fee of around €2.5 million after leaving the club in 2008 for Mallorca. He has made 391 appearances and scored 172 goals for Athletic Bilbao.