Nairobi resident, Philip Sogoti Chepsat, has applied to be Governor Mike Sonko's deputy through an advert on the Daily Nation Newspaper.
"Hon Sonko, I have reached out to you openly because I am not sure if my earlier communication did reach you. I also know that you cherish openness and transparency," Chepsat stated.
Chepsat argues out that he is driven by a strong conviction that would make a significant contribution to improve the City. He also promised to meet and exceed the expectations of residents.
" I vow to meet if not to exceed your expectations and the expectations of the residents of Nairobi," reads part of the advert.
According to the advert, Philip Sogoti is a University graduate with over 15 years experience in Public service.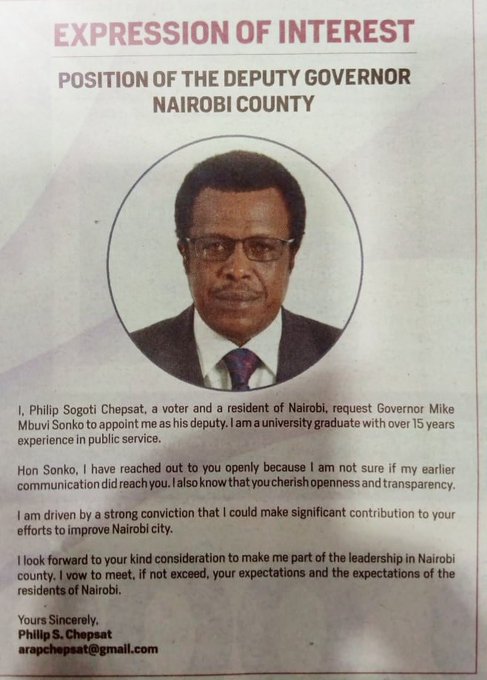 Sonko has been running Nairobi County alone since Polycarp Igathe resigned as his Deputy. Igathe resigned four months after being sworn into office in February 2018.
In May last year, Sonko nominated lawyer Miguna Miguna as his deputy. On March 8, 2018, the Supreme Court gave Sonko two weeks to nominate a DG and forward the name to the county assembly for approval, or otherwise within 60 days.
But he failed to nominate a deputy as advised by the apex court.
: