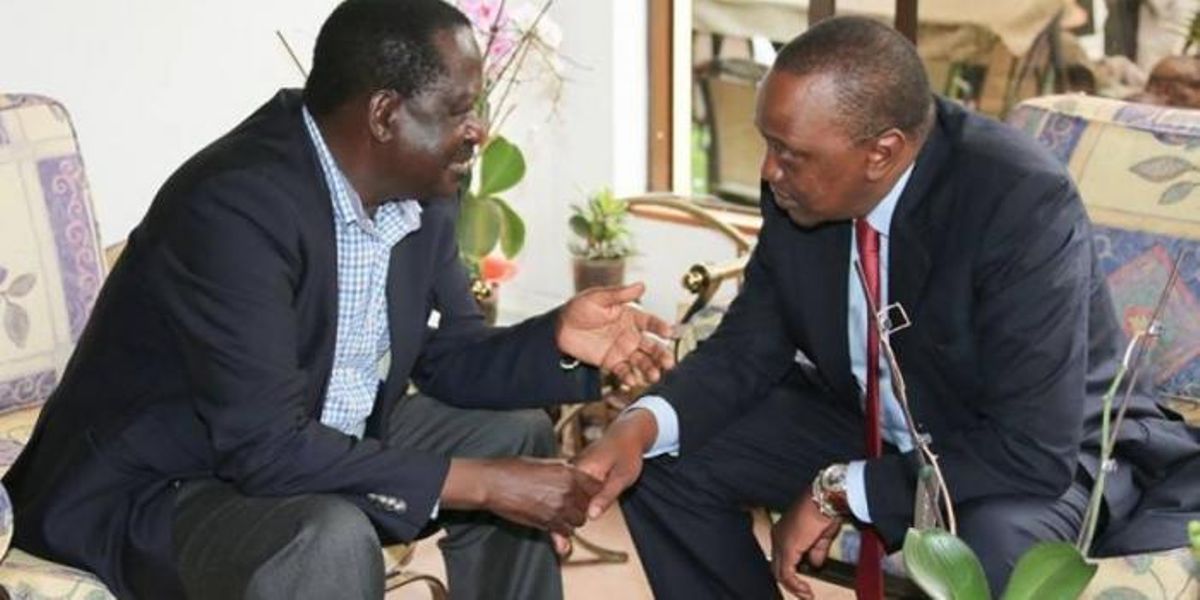 A section of angry Social Media Users have promised to teach  President Uhuru Kenyatta and Raila Odinga's new Alliance in the offing a good lesson once it presents its referendum proposal to the public.
This followed reports by a local daily that the two together with Wiper Party Leader Kalonzo Musyoka, Amani's Musalia Mudavadi and Baringo Senator Gideon Moi were planning to form an indomitable Super Alliance that will advocate for a referendum and thereafter go-ahead to deciding on the 2022 political leadership.
According to many online users, the referendum based on Uhuru, Raila's BBI was a non-issue to them since they were already into Ekuru Aukot's Punguza Mizigo Initiative. Some were of the opinions that the two should concentrate on serving Kenyans who elected them and not keeping in an eve-elections mood.
Uhuru, Raila build new super alliance. https://t.co/ddOikWj68Z pic.twitter.com/iGYwGKhVmP

— Daily Nation (@dailynation) August 12, 2019
When are these people going to serve Kenyans for the five year term they are in office. The country is experiencing a recession, businesses and companies closing doors, raising the levels of unemployment.. All we can afford to discuss is new alliance. What new alliance? Are these not the same familiar faces that have done nothing and pisssed all over the efforts of hardworking Kenyans? Posted one user Khalayi Faith
Here are some of the bitter reactions from both Facebook and Twitter;
As a Kenyan, am tired of Alliances of old. Leaders. I am ready to vote in an independent candidate as young as 26 as long as he has leadership skills

— Tabitha Kanyungu (@Tabbykanyungu) August 12, 2019
Some promised to stand by the self-proclaimed Hustler Dr. William Ruto's led group promising to teach the two dynasties a good lesson by rejecting them both in the referendum and in the coming 2022 general elections.
Edward KE I want to really thank His excellence Mr. Uhuru KENYATTA for forming a 2022 strong opposition coalition. The worst firm of fear of his deputy. Ruto is the way, whether winning or losing.. Dynasties must fall.
Denis Kirema All I can say to Uhuru and Raila is that we're waiting for them in that ballot box.BBI must fail.we shall overcome
bring them that way please…We want to end dynasties once and for all…Super fake.
Sons of Our grand Thieves.

— Hon Kimaru arap Kogo (@KogoKimaru) August 12, 2019
Rosey Emilio Koome I will stand with Ruto,after helping uhuru,uhuru is now betraying him,tumechoka na uhuru,eveeytime he says he will fight corruption and he does nothing.
Amne Shariff They are not reading the mood of punda amechoka .. all that keeps them busy is rebuilding, realignment and alliances to keep them in power.
That's a conspiracy to crumble Kenyan economy through looting.

— MOHAMED MWAMBENI (@MohamedMwambeni) August 12, 2019
https://twitter.com/DominicMungai11/status/1160778546446577665
Pure NONSENSE and it'll go NOWHERE. Pure SUBTERFUGE

— Ti Ki (@TKiknzi) August 12, 2019
First let Uhuru/Raila bring that BBI referendum so that we shoot it down. Then 2022 we are going to send these selfish and useless dynasties back to their villages and Kenyans will never ever remember those dirty corrupt families names!

— Jackson Wanyama (@jwkhasndi) August 12, 2019