Even as the 2022 political race gears up, ODM party leader Raila Odinga has kept off the succession debate claiming that his handshake with President Uhuru Kenyatta is meant to unite the country and not give him a political lifeline.
According to one of the top ODM officials, the party is working secretly on a number of strategies which includes the formation of a new political outfit, that will bring together President Uhuru Kenyatta and Raila ahead of the 2022 general elections.
This is one of the many reasons as to why Raila has remained mum over his ambitions which according to many in the party, will shield the ODM boss from immature attacks from rivals at the same time not giving rivals enough time to read his next moves.
With the Building Bridges Initiative team nearly completing its task force of collective views from the public, Raila is said to be secretly working on a constitutional referendum that will eventually lay a groundwork for the expected political alliance with Uhuru.
According to sources, a referendum will act as a determining factor for Raila Odinga. With high indications that William Ruto will oppose the referendum, the same will be used as a litmus paper by Raila to first taste Ruto's influence in the country before announcing his next move.
Raila Odinga, being a tactical politician has remained quiet at the same time tasking various ODM MPs to accompany their colleagues in Jubilee allied to Uhuru and other like-minded leaders in nationwide meetings.
Raila's strategy is to fully rally support for his unity deal with Uhuru, a well-calculated move aimed at preparing the country for the dawn of a new political movement. It is highly likely that President Uhuru Kenyatta is going to back Raila Odinga in 2022 with Gideon Moi as his deputy.
"The main agenda of these rallies is to prepare our people for a political alliance between Uhuru and Raila. We are also preparing the ground for our people to support a referendum that will take place before the next elections," said an ODM official who sought anonymity.
The same strategy has been employed by President Uhuru Kenyatta who has remained quite over who he will support in 2022. Recently, Uhuru was quoted saying that his 2022 choice will surprise many insisting that it was now time for developments and leaders should shun from 2022 succession talks.
The President has over time said that his relationship with Raila Odinga is purely based on unifying the country and nothing much. This has however not gone down well with Ruto's lieutenants who have smelled a rat.
The Tanga-tanga brigade has been pushing for Uhuru to re-affirm his support for Ruto in 2022 but the head of State has kept off the debate something that has left William Ruto and his group chatting their 2022 plans alone.
Despite Raila's quietness, it is now nearly evident that he will be in the ballot against William Ruto come 2022. According to many close confidants of Uhuru, Raila together with Uhuru are likely going to lead one team against the other led by William Ruto in 2022.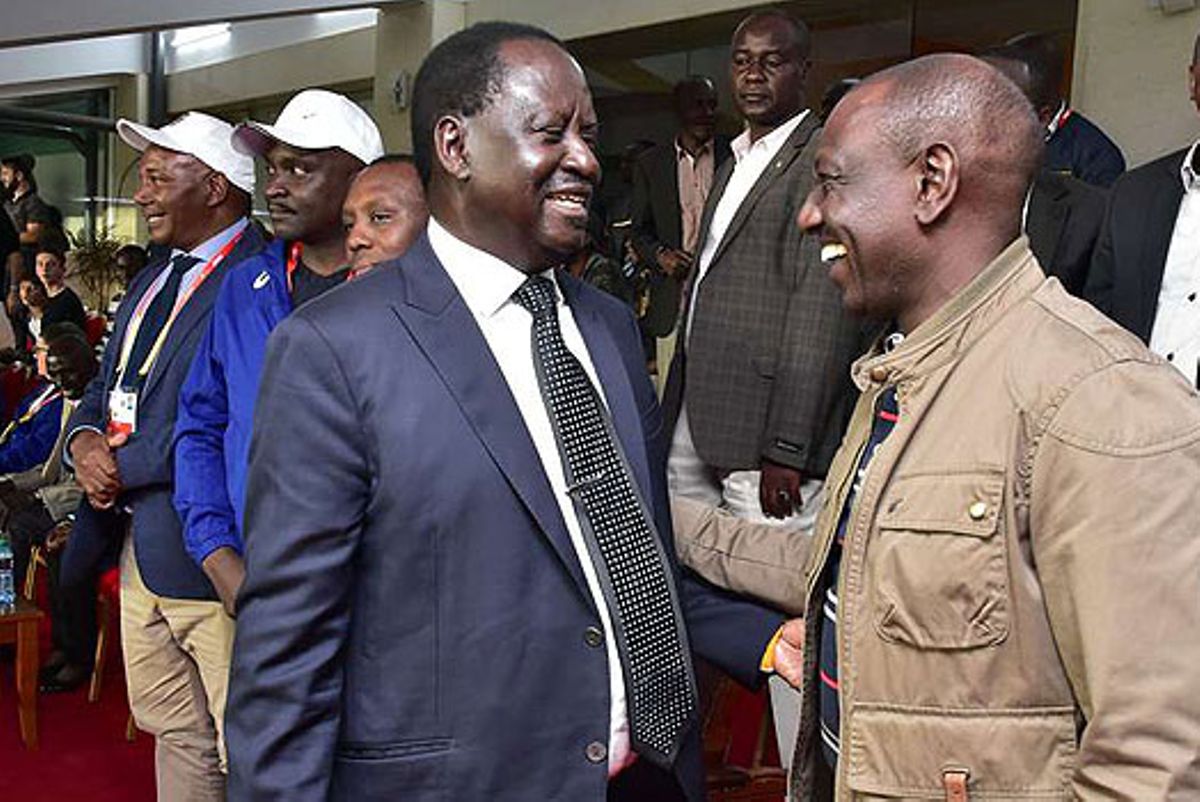 "I can tell you for free about formations in 2022; there will be a formation led by Raila Odinga. I expect people like Kalonzo (Musyoka), Musalia (Mudavadi), Gideon (Moi) and probably even Uhuru to be part of that formation.
William will also have his own formation with the (Aden) Duales and (Kithure) Kindikis of this world," said Murathe in a previous interview.