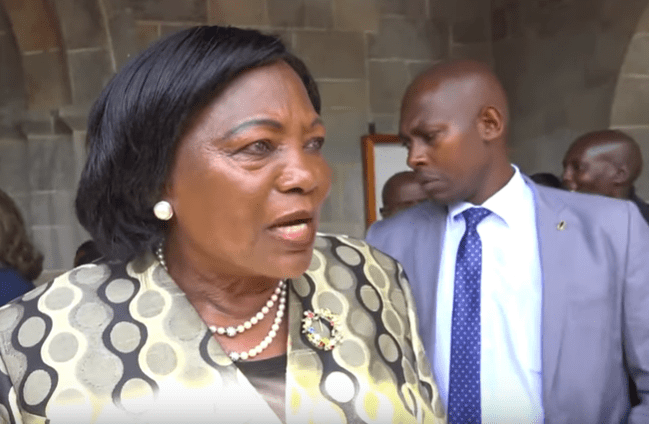 The former First Lady Mama Ngina Kenyatta has found herself on the receiving end from a section of social media users after the remarks she made on Wednesday brushed the youths on the wrong side.
Speaking at the All Saints Cathedral in Nairobi after the memorial service of the late Jeremiah Kiereini, the shy former first lady in a rare 60 seconds moment of publicity granted by the media, she had challenged the Kenyan youths to be more patriotic and emulate the country's past leaders.
"I ask the country's youth to put the interests of the country first so that you can steer this country in the right direction and inculcate good morals and patriotism to your children."
It was, however, these sentiments that brushed Kenyan youths the wrong way. Many said that the former first lady had no mandate to dictate them over patriotism since it was Kenyatta's regime that subjected the Kenyan youths into the 'untold' sufferings they are currently facing.
Many cited the increased rate of unemployment in Kenya questioning how being patriotic and jobless will help better their lives. Here are some of the reactions from both Twitter and Facebook accounts;
Ben Kimani We're trying ,but,too much thinking about the future of our sons n daughters, indeed nothing to write home about. Kenya the land of Mabwenyenyes including you,forgive us for not loving it,our passion is getting frail day by day,but Kenya MY MOTHERLAND,my son's n daughters will love you,once I fix you.
Robert Mercoher mama we are fed up with what your hubby & your son have done to this country

Kipkosgei Emmanuel Her hypocrisy and ignorance has destroyed our beautiful kenya. She needs to remain silent and keep on eating those grabbed property
Elly E'tle We love this country so much Mama Ngina But the country hates us !!!
She gave birth to the problems we are facing as youths

— Tired Kenyan 🔛 (@LusimbaLusimba) July 10, 2019
Bett Amollo It's OK we love our country. Your grandchildren do not love this country. One is married to Ugandan and the other is being sent to Tz to get a wife. See your lives nah. Achaneni na sisi
ProfArch QsEng Juma Tell your son not to love China first Our Beloved Grandma
The Only Kenya Mama Ngina want us to love, is the Kenyatta Plantation where we ought to be millions of beggars while Kenyattans loot & plunder our national Wealth #stopthesethieves

— S. W. Ngigi (@SuleiNGI) July 11, 2019
Ben Talam if u really loved Kenya mama you would be having a foundation rivaling safaricom foundation.. sumthn like Brooke side foundation.to give back to the poor.. but again.. . the two dynasty families of moi and Kenyatta grabbed the most beautiful and lovable parts in this country.. what have we left to love madame?🤔
Eliakim M Irako I respect you, but for this one,i totally disagree with you, the reason, youths of Kenya we are not enjoying anything in our country, all MP's both from government side and opposition side, they have joined their hands together to eat Wanjiku'slife, without fear and care 😭😭😭😭😭