Giant Telco company Safaricom is counting huge loses after a technical error saw Kenyans purchase huge data bundles without paying for anything.
Rumours spread like bush fire on social media cycles, that the Safaricom Platinum service was undergoing a technical hitch and you could buy any type of bundle and choose to pay with Bonga Points. Customers got the data, free minutes and free sms even without having the Bonga points.
Yaani when Kenyans get the opportunity, they can destroy you 😂
Safaricom will experience this first hand

— Bobo ☀ (@WambuiKaburi) June 28, 2019
Thousands of Kenyans used this service to purchase monthly data. At one time, the system had so much traffic that it refused to load. But Kenyans kept going for the free data.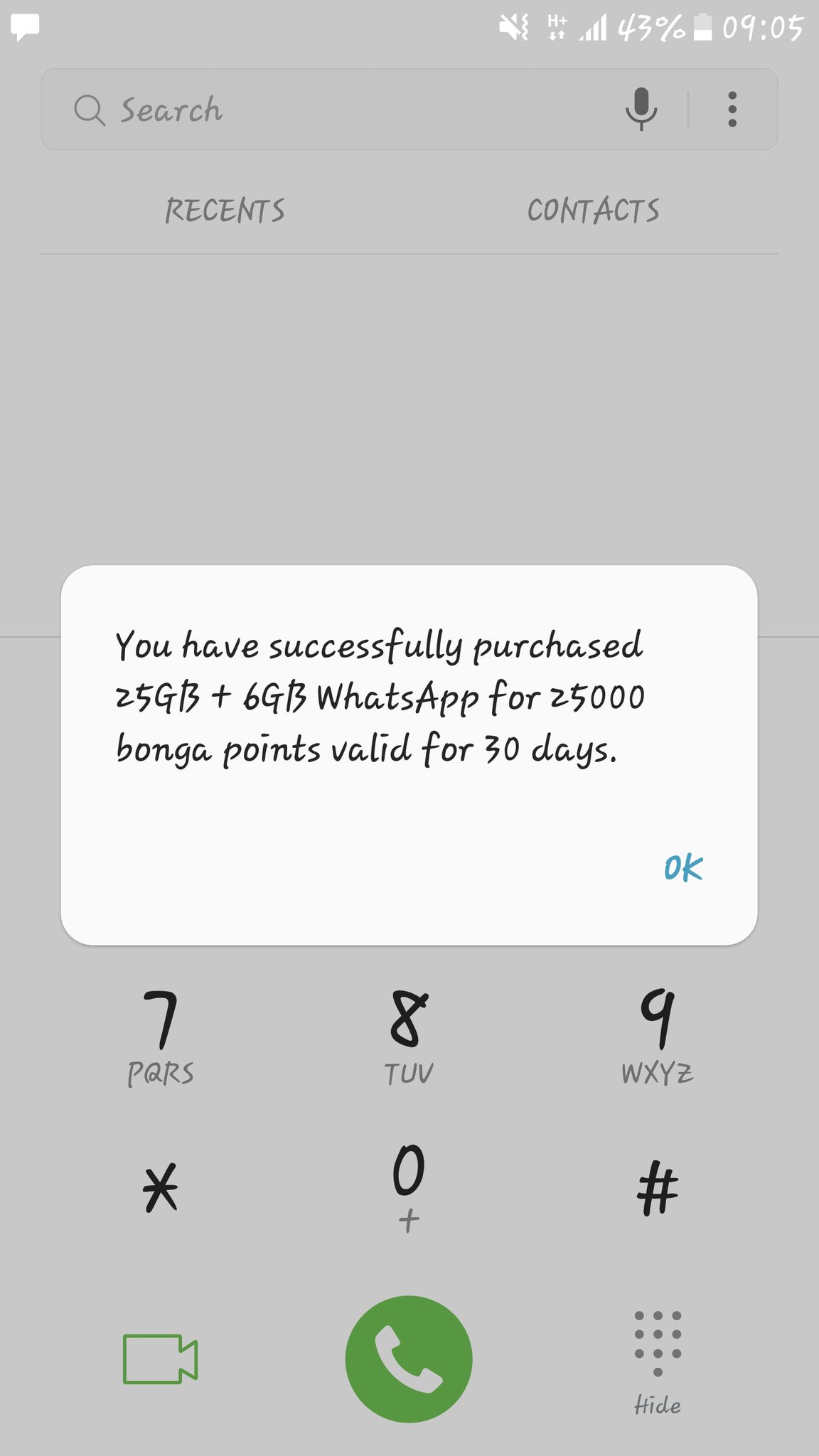 Kenyans took to social media to celebrate the bundles galore, with some people saying that Safaricom was only paying for the injustice it has done for several years.
Let's take three minutes tuchekee hao wasee wamepitwa na hio leakage ya safaricom 😂😂😂 pic.twitter.com/hvQ1oafaw9

— Komrade 🇰🇪 (@IamHillary_) June 28, 2019
Some people suggested that this might not have been a technical hitch but rather a way of Safaricom celebrating with its users after Kenya's dramatic win over Tanzania in the Afcon 2019 match played on Thursday night.
Safaricom,,if we come together,,great things happen🤣🤣🤣🤣🤣🤣🤣if you know you know!!!!!!!!!!! Thank you prophet Awuor for the morning blessings #FridayMotivation #safaricom

— Ras BOBO SHANTI (@RotichElisha) June 28, 2019
But the heist on Safaricom did not last for long as a good Samaritan warned them about the billions they were losing through underhand dealings.
@SafaricomPLC Safaricom PLC, I'm here to report a loophole on your systems, people have been buying bundles from you without your knowledge and without paying, kindly check on your 30 days bundles and platinum packages,

A happy telkom customer

😂😂😂

— Peekay the kenyan hustler (@peekay_photos) June 28, 2019
The company has since disabled their Platinum service option as a short term measure to stop more loses. It is not clear what they will do to the customers who stole from them.
Bonga Points is a loyalty scheme for all Safaricom PrePay and PostPay subscribers. It awards points to registered users for every activity on the network which can be redeemed for rewards.