Kenyan youths lining up for employment opportunity
With so many young people graduating from Kenyan Universities , a lot of young people are missing out on formal employment.
According to a recent research more than 50000 young people graduate from the different institutions of higher learning in Kenya.
With an estimated 25 million graduates in Kenya being unemployment the figures will continue to rise if something is not done.
The research also stated that it takes up to 5 years for a graduate to get a job in Kenya.
A section of Kenyan youths after graduation
The best thing about business is that once you start, however small it is, the idea of employment becomes a joke. Most people have found satisfaction in business, where they grow with time and even employ their college mates.
We often find graduates bragging that since they have papers, doing manual jobs will lower their status. This kind of thinking has led many youths into drugs because of frustrations.
You can start most of these businesses with minimal capital and then expand as newer thoughts come to mind.
Sale of second hand/Mitumba clothes
Mitumba business
This is probably one of the most sort after Business Ideas by young people in Kenya.
The venture does not need a lot of money.
Many of the young people in the ,Mitumba Business will tell you they started with around 1000 shillings, they would go to Gikomba get some nice shoes /clothes sell to guys in town and maybe make an extra 1000, did that for a few months before they got enough cash to open a small stall in Gikomba or other markets in the City or other towns.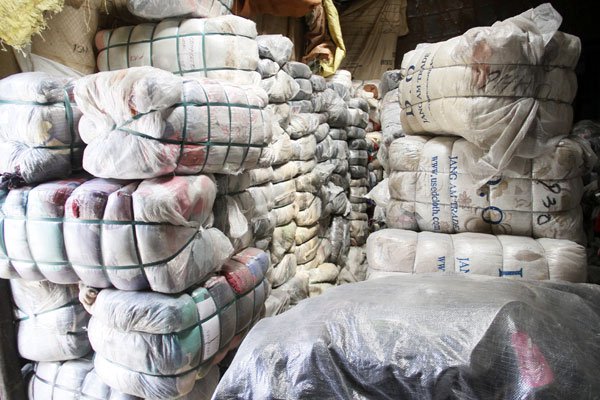 Bales of mitumba clothes
The Best thing about Second Hand clothes is that they have a ready market as most Kenyans prefer them over the new ones in shops which are quite expensive.
The only challenge newbies in mitumba business face are identifying a strategic spot for outdoor display. Depending on the location of choice, most Mitumba sellers pocket a minimum of KSh 2000 a day.
All you need to do before getting started is pick a perfect place and create reliable customers.
Academic and Freelance Writing
Freelancing is one of the most economical business opportunity to start in Kenya.
There are several online companies requiring skills from graduates. Online academic writing can keep you busy in the meantime as you apply for employment.
Most companies in Kenya pay Ksh150-Ksh250 per single page. If you manage to write 10 pages per day, you will comfortably make at least Ksh1, 500, which translates to Ksh45,000 per month-this money is not taxed.
Even without money you can start working for some of the guys who own several of the Academic and Freelancing Accounts, there you will save up and buy your own account or look for other Business Ideas in Kenya to venture into.
Start farming profitable crops
A happy farmer on a cabbage farm
The best crops to farm in Kenya include cabbages, sukumawiki, traditional vegetables, watermelon and tomatoes.
You should avoid planting crops that take more than 6 months to mature.
Event Planning

Well setup event 
Every organization is wrestling to stay relevant by engaging the public in its services.
As a result, several events occur around us most of which go unnoticed. Corporate, wedding, religious, birthdays and inaugurations are however the most prolific events prevalent in the public domain.
On the other hand, youths can tap into private events organized by families and other registered groups. Start an event organization firm, set a target on the number of events to complete a month and earn big before you even know it's working.
Fast food joint in major towns
Ben Mulwa, a Governance Consultant with a friend eating at a kibanda in Nairobi. [Photo: Courtesy]
If there is one thing that we cant survive without is food.
If you made food from home and supplied to people for breakfast and lunch you would really make good money.
This is one of the best Business Ideas  in Kenya that doesn't need you to own a shop. start from home before growing to something bigger.
We all start from somewhere before getting to those great levels that we always dream off. Making sure you have a unique menu with fruits will give you a niche over the other food suppliers.
Daycare 
A simple daycare
Kenya has many working people with children who they have to leave during working hours.
In the past, these children were left with nannies and house helps but now things are different.
Daycares offer parents a chance to leave the children under professional care in their preferred environment.
Talk to parents with small children who do not go to school in your neighborhood.
Explain to them that you can look after their children well at a small fee.
Target children between the age of 1 and 3 years. You do not need to start with renting a place; you can use your house.
All you need to do is to buy secondhand toys, both hard and soft, to keep the children busy the whole day. Prepare to feed and wash them whenever necessary. If you have to, you can hire an assistant to help out with the children.