Have you made a close look at the new Ksh 200 note on the back? Well, you might clearly need a microscope to find out some hidden details that you might be missing but which can now be confirmed by online gurus who have made a 'huge discovery'.
A section of Kenyans, politicians and activists remain angered pointing constitutional breaches in article 231 (4) and arguing on the grounds that the due process was not followed by the declaration by central bank governor on the invalidation of the current Sh1,000 notes effective from October 1.
Kenyans online have expressed anger over the new banknote design, which features an image of a statue of Kenya's first President, Jomo Kenyatta – the current president's father.
A quick check on the Ksh 200 note also points to an image that resembles the current Minister of interior Fred Matiang'i together with children holding laptops when he served as the minister of education.
The controversy surrounding the new currency notes is just revolving around Jomo Kenyatta's image. Are you comfortable with Matiangi's image on a ksh 200 note? pic.twitter.com/dWFPG0w1TC

— Mustafa Juma (@jumamuhst) June 4, 2019
The image was closely compared to an existing photo found online of Matiang'i speaking with children during the laptop project during his tenure.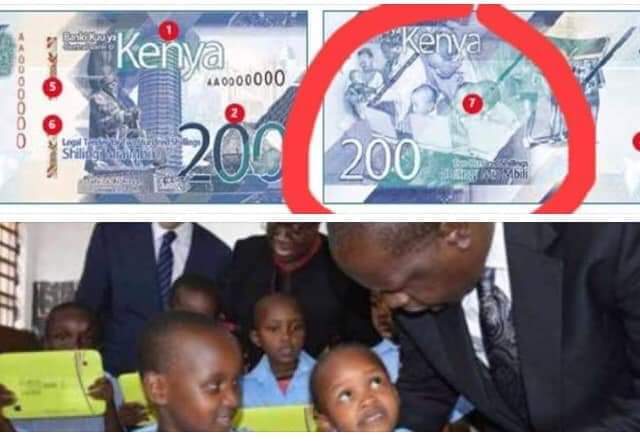 Although it cannot be verified whether its the true image of the minister, a section of onliners believe it to be the one.
Matiangi's image/portrait/illustration is on Kenya's new ksh 200 notes. Is this legal? pic.twitter.com/2Wkrx2Xz0K

— King Fred Asira (@KingFredAsira) June 4, 2019
CS Fred Matiangi's photo/portrait in Kenya's new Ksh 200 notes. pic.twitter.com/cbpbSlPvaP

— Fredrick Mirikau™️ (@MirikauFredrick) June 4, 2019
Matiangî on the new 200/= note !!
Yenyewe Kenya has it's owners !! pic.twitter.com/jFzOCrCxeq

— Kagoshee™🇰🇪 (@Puffkagochi) June 4, 2019
Activist Okiya Omtata is disgruntled that, contrary to Article 231(4) of the Constitution which decrees that Kenyan currency bank notes shall not bear the portrait of any individual, each new generation Kenyan currency banknote bears a prominently displayed portrait of the late President Jomo Kenyatta.
He has said that the mess was created when designers used the picture of Kenyatta International Conference Centre just to sneak in the portrait of the former president. The petition described the action as some way of 'breathing life in the image of Ceasar' against the requirements of the Constitution.
Tunasherehekea Madaraka Yetu! The New Generation Currency banknotes are here! pic.twitter.com/cJJyz8ueFd

— Central Bank of Kenya (@CBKKenya) June 1, 2019