Everyone has taken photos at a certain point in this digital world either by using a smartphone or a professional camera.
Photography is a great way to express ourselves, be creative, and show off on social media platforms.
Most importantly when you acquire a new camera or a classy smartphone with super lens power photography seems like the most fun thing to do with your time.
This trait is even common among influential people, craving to give best shots in photography.
President Uhuru Kenyatta and former Deputy President Hon Stephen Kalonzo Musyoka have been spotted in public taking the position of cameramen.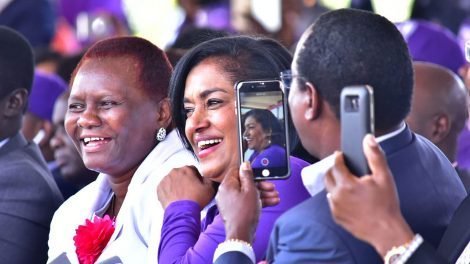 To make photography fun, here are some tested and approved techniques to follow:
1. Learn Photography
People tend to think that photography is self-taught.
There's a lot to learn. Moreso if you want to take great photos.
Focus your attention on learning how to take better photos and understanding your camera better, then you will see dividends from your efforts.
Your photography will start to improve, you will gain more recognition for your work, and you will become a lot happier with yourself.
And that's a lot more fun!
2. Take on a Photography Project
Photography projects offer better chances to learn and enjoy photography, but there's one aspect which makes them really great.
The identified project will focus your attention, and inspire you.
Attention and inspiration is a problem faced by many photographers thus finding photography boring.
When you have a project to guide you into taking specific photos, you can produce great results without really having to worry about attention or inspiration.
The best way to learn, is to practice, and what better way than with a fun, creative, photography project?
For example, A 30-day photography project is a great way to learn. Every day (for a month), you have a new task to accomplish.
Testing your skills, and driving inspiration.
3. Make Photography Secondary
Just bring your camera along, that's all.
Say you're going out for a walk in the upcountry, then just sling it over your shoulder when you leave the house. It doesn't take much.
Don't let it be the focus of your walk, forcing yourself to take photos. Just have it with you in case you see anything you want to take a photo of.
That way, there's no stress of pressure involved, and you can relax.
You'll find that you only take a handful of photos, but these photos will be of a lot better standard than the hundreds of photos you may have taken instead.
This also helps to train your eyes, and there's no pressure to actually use it.
Even DP William Ruto was spotted carrying a still camera during his evangelism days.
4. Buy a New Lens / Accessory
Unboxing a new lens or brand new smartphone brings the urge to try it out every time.
With new stuff you will see a much wider range of possibilities than you had with your kit lens.
You shoot at a different focal length, with a wider aperture, and better optics. It can really help to keep yourself entertained.
Sometimes not enjoying photography comes down to a lack of confidence.
You compare your photos to others, or you simply look at your photos when you're in a bad mood, and you just don't think they're any good.
Chances are you're wrong though.
If you're actually trying to improve your photography, and you're taking the time to go out and take photos, then you're already ahead of about 90% of people who own a camera.
A great way to find a boost in confidence is to print and share your photos with others.