Popular Kenyan Youtuber Chantelle Petit, also called 'Mama Booboo' took to Instagram to share her radiant energy with the world.
The new mother of one made headlines when she opened up about her birth experience that almost took her life. Many Kenyan mothers could relate to her and many tears were shed alongside hers.
Despite all the drama with the hospitals and her baby daddy, the beauty remains strong all through keeping a smile on her face.
On the Instagram post that has caused a stir, the beauty is seen dancing carefree and happily to Beyonce's song. She has on a lesso and just proceeds to bust a move.
Many mothers can relate to this relief when someone gets even a second of time to yourself, and Chantelle decided to use it to dance. Dance is therapeutic to many and we think it is for her too.
While many people were awwed by her dancing moves and general happiness, a certain troll had nothing nice to say.
The troll's comment read:
gintonlevvy Good movement though kiuno kikubwa
View this post on Instagram
Luckily, his ignorant rude disrespectful remark was quickly shut down with someone even telling him to apologize.
ramatush You know she has a new born baby yet you tell her that
ramatush @gintonlevvy never tell a woman she's big cause you don't know the story behind her fatness please…. People go through a lot in life….you might see @Chantelle_petit smiling but you don't know what her heart is going through….She might be sad and so she's dancing to calm herself down and you are here telling her ati kiuno kikubwa please man respect a woman…. you where also born by a woman.
ramatush @gintonlevvy please let @Chantelle_petit be she is beautiful and wonderful made by God…. Besides it's not easy for a woman who has a new baby…. Anyway why am I explaining too much just let @Chantelle_petit be herself please.
ramatush @gintonlevvywhat if she was your sister?Am sure you would not be happy for that so please if you can just say sorry to @chantelle_petit cause this woman has been through a lot but she's still strong and keeping a smile on her pretty face.
jwmungai @gintonlevvywhat a stupid, nasty comment!!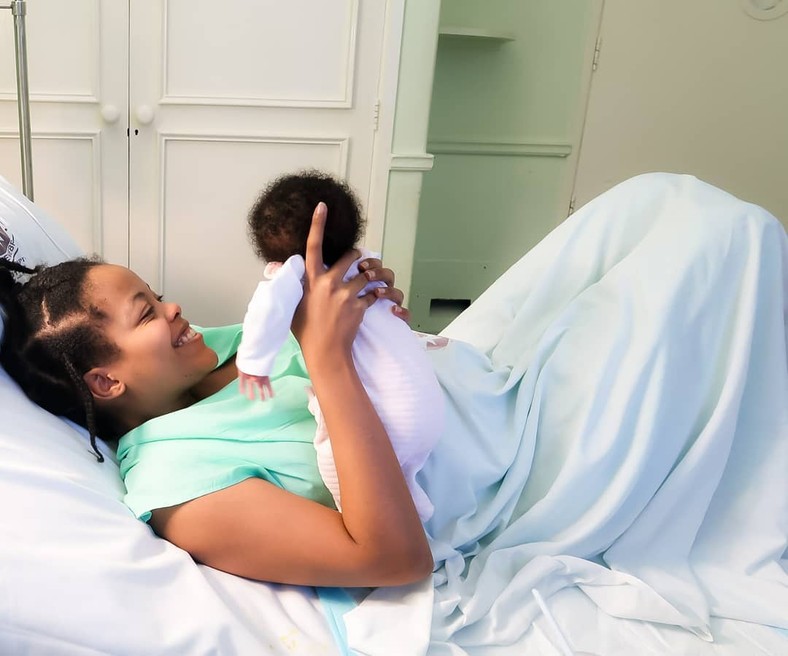 Motherhood is a journey filled with a lot of bumps on the road. Once a woman gives birth, her body is bound to change. Society needs to stop crucifying women for being women. All bodies are beautiful.
Chantelle's birthing story in particular is a tear jerker as it has been harder than most. Check out the full experience here:
Here are some of the encouraging comments she received:
pattywangz This has made my week mami I love you 😭😭
giddy_mutai The kind of happiness i need to make it through this week
_suziewoozie 😂😂😂😂😂😂 this is a vibe mama booboo
normanjanet36  You are so beautiful and so strong. I love u. I want to be ur friendddddd😂😂😂
wangui_waithaka  This is sooo nice! 😍
manuellanjambi You made my week🙌🏽❤️
anne_de_princess 🔥🔥🔥🔥nakuja classes za kubreak dance hehe….a happy soul love it @chantelle_petite