Kenyans can't hide their joy for Churchill Show Comedian MC Jessy after he said that he is ready go to Nigerian to get her girl.
This comes weeks after MC Jessy penned a hilarious open letter to his Nigerian crush Chidinma during her birthday.
Jessy's letter to Chidinma his funny in its own way, judging from the choice of words he used to express his love for the Kidike maker.
He went on to joke that, he was unable to travel to Nigeria to celebrate her Birthday because he is yet to take a Huduma Namba.
The letter read:
" Walapas Chichi
Wamlambez!!!(when I say Wamlambez you respond Wamnyonyez). Si you remember all the promises I made about us? In front of Kenyans on Churchill Show, I'll fulfill them, keep waiting dol. I was planning to come this week to Nigeria to celebrate with you but I haven't registered for Huduma Namba, the line outside Kinoo supermarket for registration is loooong looong sana and I can't travel without the namba (namba is Number, our government came up with that brilliant idea).
Sorry I missed your call on Easter Saturday, I was on top of a nduthi(nduthi is okada). Anyway I hope you will come soon to Kenya, my big brother  is asking if we are still parambulating, and I told him "YES bado tunakatiana" ile ya shingo upande though (as in neck aside) because it's been kitambo since we talked about it.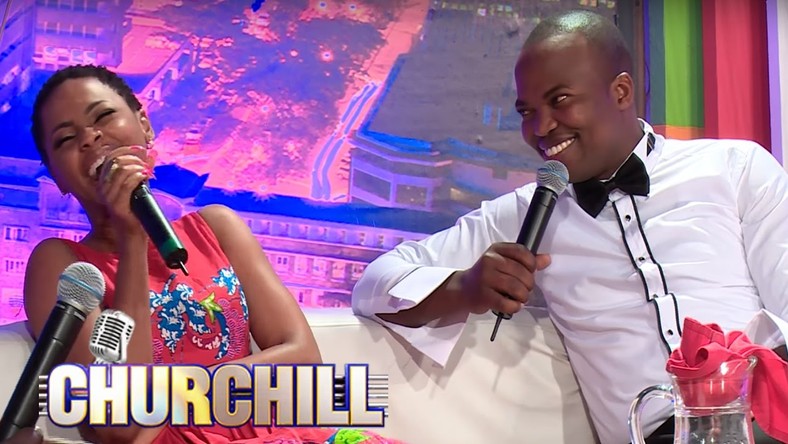 But the reason for righting this letter is to wish you a happy birthday and to the whole world wasifikirie tumenyamaziana(as in we are not silent for each other.
I'll talk to Bonfire ya huko kwenyu Nigeria, they take you to Diani ya Abuja. 
Good bye for now!! Yours Sincerely,
Oga Jessy."
Being on Churchill show, Jessy describes is best moment as the time he met Chidinma;
"My best moment on churchill show is when i met Chidimna. I have a huge crush on Chidnma. Yeye hukam Kenya na tunasalimiana tu, otherwise you will see people saying 'Jessy and Chidnma dating' nianze scandal ingine" said Jessy.