Shoe Shinning
It goes without saying that once a shoe has be cleaned with water and soap, it requires some polishing to make it look appealing. Shoe shinners who are strategically distributed in the CBD give one of the best services one can receive for as low as Sh30.
Coffee, Tea, porridge hawking
When it rains, it is cold. The best way Kenyans know how to keep cold at bay is by having a cup of hot tea or coffee or porridge depending on where you originate from. Mostly its tea. The hawkers are very smart as they only emerge when it is about to rain, when it is raining and when the rain has stopped.
A tumbler of coffee or tea goes for Sh10, the lowest quality, with a cup of hot porridge costing Sh30. These are easy and cheap ways for a person who forgot their pullover to keep warm and a for business man to make money.
Shower caps and umbrella hawking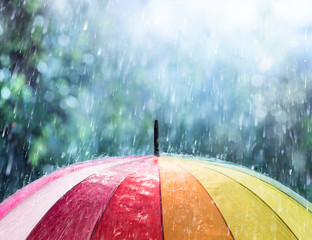 The main market target for this commodities are ladies. Hair is believed to be a crown for most women and that means protecting it from unfavorable conditions like weather. It is no surprise to see a lady remove her pullover to cover her hair.
Shower caps only cost Sh50 with umbrellas going for Sh 200. This is one business enterprise that was starved of customers a month ago, but right now they are making a killing. From people who forgot their umbrella to those who lost it on their way to or from work.
Road side snacks
This ranges from roasted maize, groundnuts, boiled eggs and smokies spiced by Kachumbari.These commodities are on demand at the moment from pedestrians, drivers and PSV touts.
These ventures are mostly found in densely populated streets and are easy to run with low capital and better returns. The cheapest snack goes for Sh10.
Windscreen blades
The scorching sun in the first quarter of the year might have worn out or stiffened the wind screen wipers.
The best time and place to sell these products is during traffic jam on the highways. They can be carried in bulk with the seller moving from one vehicle to another looking for market for his wipers.
Cold weather apparels
This is the time when Kenyans appreciate gloves, scarfs, socks and winter caps. This is because they are easy to carry them around and cannot be forgotten behind. Further, with the creativity, they can work as cold accessories that enhance the heavy wear that keep cold away.
They have a ready market, courtesy of the rain and can be sold cheaply from a cost of Sh50.