Despite admitting not knowing all sporting disciplines three months into office, Amina seems to have seen enough.
The Sports Cabinet Secretary Amina Mohamed read the riot act to disorganized federations following the recent spate of embarrassing occurrences in the sports sector.
"You have to be responsible and accountable managers to sports, to athletes and Kenyans. The recent events need not to have happened. If it continues, it will erode our reputation internationally because the media carries them across borders and people start wondering how there is so much disorganisation domestically yet Kenya does well internationally," she told federation officials gathered at Kasarani Stadium for the release of a sports stakeholders study conducted by research firm Trends & Insight For Africa (TIFA).
Federations have resorted to paralyzing operations at ministry headquarters to obtain funding for their urgent travel needs with Soft Ball being the last to stage a sit-in at Kencom House. Ugly incidents were also seen when the Paralympics team decided to barricade part of Thika Superhighway to demand their overseas allowances.
"Most of you are looking up to the Sports Fund to solve all your financial problems but it is not your only solution. The magic bullet lies in discipline, proper planning and decent use of resources be they from government or global bodies," she added.
Fully comply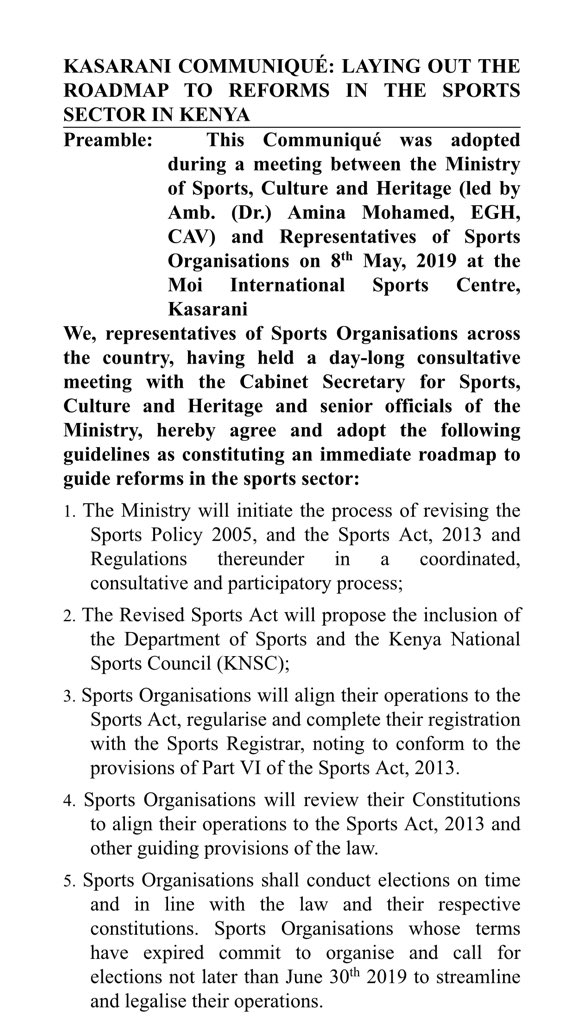 Her ministry will consequently issue a deadline to all federations to fully comply with the Sports Act or risk de-registration after it emerged that some of the most needy and chaotic organizations were not fully compliant.
TIFA's research identified the gaps in management within federations, most of which neither have physical addresses nor employees. The research equally emphasised the need for greater and better cooperation between government, federations and the media to achieve self-sustainability that could spur growth in the sports industry.
Amina wants all duly-registered federations to present their calendar of events after every three months for the ministry to adequately make provisions instead of ambushing her office for facilitation without prior notice.
"Our communication channels are open to you. We want to transform the sports industry so we don't want you to be just good ambassadors but agents of positive change," said the former Education and Foreign Affairs CS.