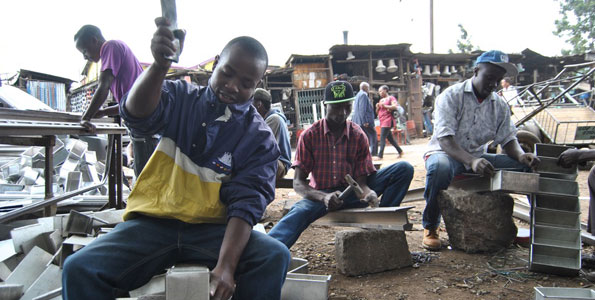 Jua Kali sector is set to have a new look as the Kenya Bureau of Standards (KEBS) has shipped in to help the ailing sector.
The agency is spearheading a countrywide inter-agency initiative targeting stakeholders in the sector to unlock barriers hindering their growth.
KEBS whose key mandate is to ensure standards are adhered while ensuring fair trade and quality life is working with the Kenya Revenue Authority, Anti-Counterfeit Authority, Export Promotion Council, KenInvest and Youth Enterprise Fund.
The stakeholders under the aegis of the Kenya National Federation of Jua Kali Association continue to cite tough new regulations for industries and enterprises that introduce layers of red tape across these agencies as huge barriers to their survival.
"We are cognizant of the key role the MSME sector plays in Kenya's economy. These forums are important to not only understand their challenges but also explore ways of working across agencies to create an enabling environment anchored on simplified procedures and regulations, said KEBS Acting Managing Director Bernard Nguyo.
The Chairman of the Jua Kali Association Richard Muteti says that whereas new laws and regulations have been enacted for enterprises in Kenya, some of them pose a tremendous threat to the growth of the sector.