On Sunday 28, the whole World is expected to come to a standstill to witness the Great London Marathon as two heavyweights in the long distance running, Kenya's Eliud Kipchoge and Britain's Mo Farah take on each other.
Having cemented his name as the greatest marathoner runner of all times by breaking the world record, Olympic champion Eliud Kipchoge returns to London Marathon seeking a fourth title.
On the other hand, the 36-year-old British runner who focused on road racing after dominating the 5,000 and 10,00 metres for a long time would have good reason to rate it that highly this year as he has to beat world record holder and defending London Marathon champion Eliud Kipchoge.
The British athletics legend Mo Farah said on Wednesday winning the London Marathon would equate in terms of achievement with the four Olympic and six world track titles he won.
Farah, who hinted in March victory in the London Marathon might prompt him to bid for a fourth successive world 10,000m title in Doha later this year, said his burgeoning rivalry with Kipchoge was good for the sport.
The question many will be asking, therefore, is: Will the fastest marathoner in the world continue his almost-perfect winning streak?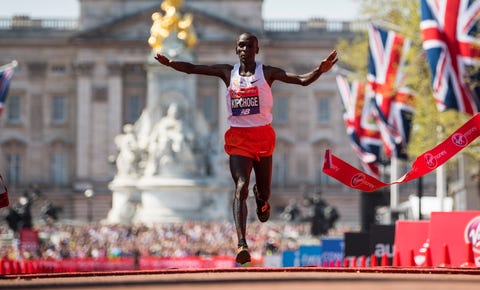 Kipchoge, 34, shattered the world record in Berlin last September, clocking 2:01:39 to clip a massive 78 seconds off the previous record held by another Kenyan Dennis Kimetto. He made his breakout at the 2003 World Championships in Paris where, at the age of 18, he won the world 5000m title.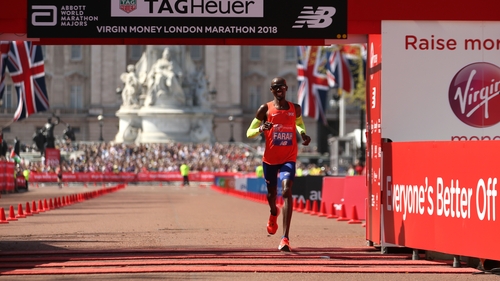 Kipchoge was given a good battle by Farah last year before the latter faded to finish third.
The Kaptagat-based athlete will also square off with former world record holder Wilson Kipsang, Britain's Mo Farah, a third finisher last year in London, Ethiopians trio of  Shura Kitata, Mosinet Geremew, and Leul Gebresilasie.
"Sometimes you are beaten by a better man and you have to accept that and you go home and think about what you need to do to beat him," said Farah of his defeat by Kipchoge last year.
"I had a memorable 2018, winning the London Marathon and then setting a new world record at the Berlin Marathon. I'm hoping that 2019 is just as good," Kipchoge told the organizers ahead of Sunday's race.
He continued: "I am looking forward to racing Mo Farah again. He is a great champion and proved in Chicago that he can win a major marathon so I relish the battle with him and also the many other great athletes that are in the start line" Kipchoge further added:
"My preparation has been good. I am fit, I think I will have a good result."
Mo Farah has shown he is capable of winning major marathons having set a European record in winning the Chicago Marathon last October.
"I don't go out to try and finish third or fourth," said Farah said. I believe I can win more major marathons."