Ephy Saint and Chantelle Petit have finally shared the first photo of their daughter on Instagram, hours after nasty words were spewed!
In the post accompanying the picture, Ephy claimed that Chantelle changed the baby's name and that the little girl got brain damage due to prolonged labour.
Chantelle had been scheduled for an emergency section but got delayed as the theatres were fully-booked and the baby started coming out on her own.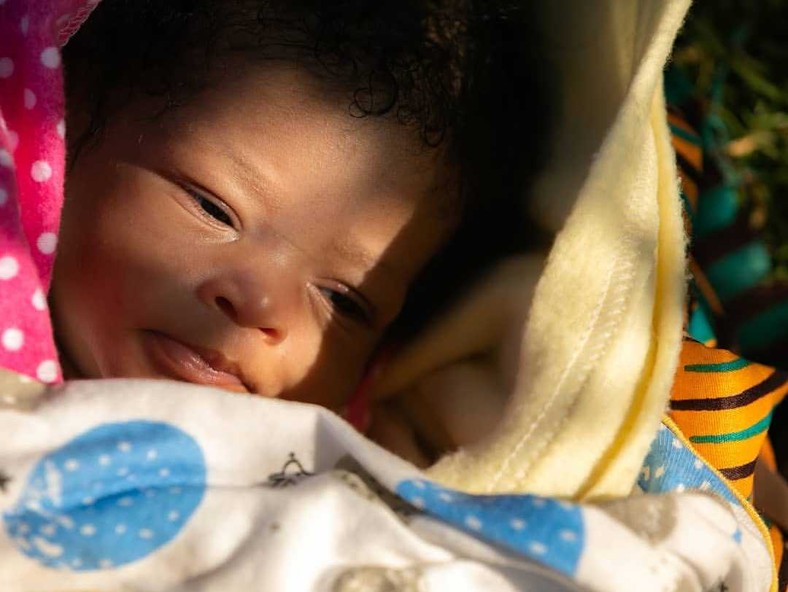 Summer Ella Wamuyu Mururu (Instagram)
"Summer Ella Wamuyu Mururu. I am sorry you had to be dragged into this social media experiment. Apparently, they changed your name but I will call you by the name I gave you… all the prayers I sent to the man above when they told me you probably got brain damage at birth cause of prolonged labour… before I signed papers to let them probe you and prick you to clear your infection… I Love you more than words can explain your grandma can or will probably one day tell you if not this post is for you … The fact that you never breastfed worries me but God had other plans for you I hate to introduce you to the world like so but this world is mean and the ppl in it even worse but my prayers for you will protect you every day that you live. They told the world the bad things I was/am I hope the will tell you the Good and the better and the joy you brought me… you are not a mistake and you will never be, I was just the vessel chosen by God to channel your soul into this world. I have no room for hate I forgive them for everything and I pray they forgive me. But know that u always have a home n my house. And a soft spot in my heart," read his post.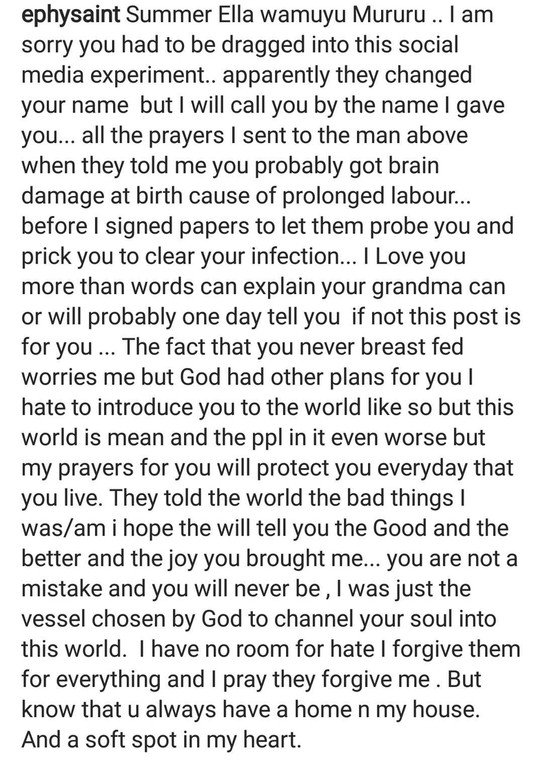 Ephy Saint's post (Instagram)
In response to Ephy, Chantelle shared a photo of her daughter when she was one week old. She disclosed that due to the prolonged labour she almost lost her baby.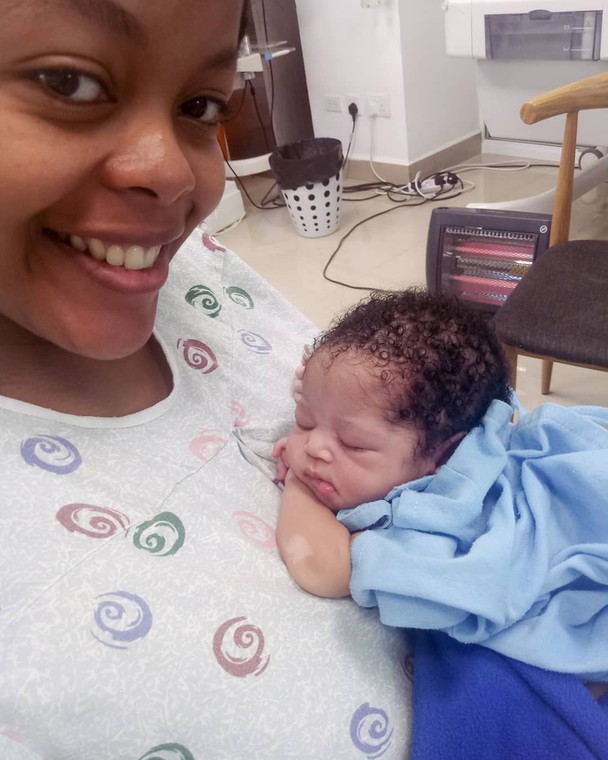 Chantelle with their daughter Summer (Instagram)
"My one week old Summer Ella Mururu. I had only slept 3 hours on this day. I spent the entire day and night at the newborn unit taking care of my Boo Boo. She had just been removed from the cold bed a few days prior. Mommy mode had checked in and I was obsessing over everything. On this same day, I managed to pump 60ml of milk for her to drink. Oh, how happy I was. My baby had MY milk after 3 days of pumping 5mls each time I produced 60mls.
This was also the first day she fell asleep on my chest. Felt like I was pregnant again. She was so warm. I remember looking at her and telling her sorry for what we went through at birth and all the tears I cried while pregnant.
I was very close to losing my love on the 1st of January but I thank the Lord that she is here. When I pushed her out, she didn't cry, I remember telling my sister who was in the delivery room with me to go be with her and watch what they were doing to her. It still is a very traumatizing memory for me. I will do a vlog one day narrating everything.
World, meet Summer (Boo Boo). The love of my life. This is the only photo I'll post of her. Hey Boo Boo," read Chantelle's post.
christinewawiraDon't live in fear! She's so cute!!

glowh_karubara@a.bee.abbie 😍😍😍😍 Kuja uone…. My ovaries just twerked 😩😩😍😍🔥🔥🔥😂😂😂

sarahmugo_So innocent. Babies are so pure ❤️ May God always provide for her.

its.abbie_officialShe is so cute omg💝💝💝 Baby Summer is blessed

dreamheartdiaries😍😍😍😍😍😍😍She's so so adorable and beautiful,too much cuteness on one face,almost illegal

en_em_wangariWaaaaaaah! I want to give birth now! She is hevean 💕
If you haven't watched her delivery story yet, watch it here first: