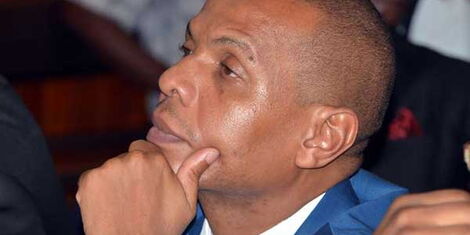 Everybody has a story of both strength and weakness. Let's take a look at the latest embattled Danson Buya Mungatana who is a Kenyan politician, popularly known as "the crocodile eater.
Growing up he was a football player and participated in athletics and represented his school in interschool games. The boarding school taught him discipline, the need to be responsible and independence at an early stage.
Throughout his primary school, he had an outstanding academic record which was crowned by his exemplary performance in his C.P.E at class seven.
Hon. Danson Mungatana was once the National Secretary General of Narc Kenya and also the Member of Parliament representing Garsen Constituency in Coast Province serving his second term in Parliament.
He first got elected in 2002 on a Narc ticket and in 2007 on a Narc Kenya ticket.
Despite his years of clean record and stellar performance, his image has recently been tainted.
Former Garsen MP Danson Mungatana was Thursday morning arrested by Ethics and Anti-Corruption Commission (EACC) officers over the loss of Sh51 million by Kilifi County Government.
He was linked to the scam by a businesswoman who claimed the politician used her company as a conduit to illegally receive Ksh.9.1 million from the Kilifi County Government.
According to EACC, the 21 suspects paid Sh51 million to six private companies which did not supply good or offer any services to Kilifi County. The Local Service Orders (LSO) used for the transactions were also fake as they did not originate from the county government.
The Jubilee party politician denied charges of fraud brought against him by the Ethics and Anti-Corruption Commission (EACC)
On Thursday afternoon he was released on sh 3 million bail. Do you believe Mungatana changed and became a bad boy or he is still the same disciplined he once was?