Raila Odinga's name has been dragged into an alleged gold scam in which a South African businessman of Ethiopian origin claims he lost $1.9 million (about Sh200 million) in Uganda.
Most of the suspects in this fraudulent scheme, including a Nairobi-based South Sudanese businessman Lawrence Malong Lual Yor, are behind bars in a Kampala prison.
But now Daily Monitor has reported that one of the fraudsters, who defrauded businessman Wegnew Desire of the said monies, at one time introduced himself as a relative of the ODM leader.
The prosecution however contends that Malong, the flashy youthful South Sudanese tycoon, infamous for uploading photos of himself 'swimming' in crisp dollar bills, is the architect of this fraud in which one Wegnew Desire alias Dessie lost the cash while attempting to purchase gold from Malong and his associates.
According to Dessie, Malong – who passed off as the son of a South Sudanese General – once introduced him to a certain 'Owino' in Nairobi.
'Owino' introduced himself as a Senior Kenya Revenue Authority official and was supposed to help him in facilitating the transfer of gold which had 'mistakenly' been shipped from Kampala to Nairobi instead of Dubai.
'Owino' would go on to request for millions of shillings – in cash – to facilitate the transfer.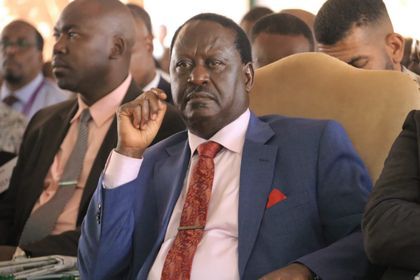 But when they contacted 'Owino', the 2017 election campaigns were at their peak. Owino claimed to be related to Raila Odinga, who was running for president, and that he was too involved in his campaign to spare time to come to Uganda, the story in the Daily Monitor reports.
Malong then advised Dessie to go back to South Africa and look for more money.