The Judicial Service Commission recommended that President Uhuru Kenyatta form a tribunal to probe against Court Judge Jacktone Ojwang'. The JSC wants Ojwangs investigated over bribery claims.
 In a statement delivered by Chief Justice David Maraga, it said it has strong evidence that Ojwang' was involved in gross misconduct in a case involving Obado.
Last Tuesday, Ojwang' declined to appear before the JSC to respond to allegations against him, including being bribed to deliver favourable rulings and being a partial arbitrator.
 He is accused of authoring a judgment with respect to the Sony Sugar belt and in return getting a reward from Governor Okoth Obado in form of a road to his rural home on the outskirts of Migori town. Ojwang' has denied wrongdoing.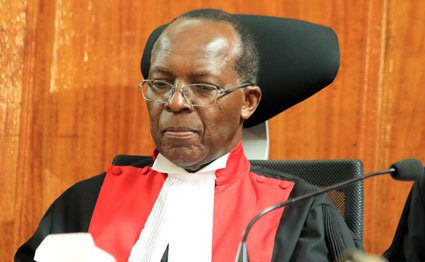 Migori governor Okoth Obado has dismissed claims he built a road to return a favour to Supreme Court Judge Jacktone Ojwang'. Kakrawo-Rayudhi road passes near Ojwang's rural residence. The allegation was made in a petition filed against the judge.
But on Saturday, Governor Obado said he is being witch-hunted.  "I want to request a moderate kind of politics. We have a lot of propaganda doing the round. Like, recently, what they were saying about Justice Ojwang', looks bad. My people here are the source of those many bad things," he said.
Obado led a cleanup of Lake Victoria beaches in Nyatike sub-county. "There is no private road, of those the county has constructed, that leads to Ojwang's home only a public road." The governor who spoke on Saturday during a clean-up exercise of the beaches along Lake Victoria in Nyatike sub-county.
The county has been doing everything in the open and it is wrong to use its projects top malign him and the judge, he said."It's a lot of witch-hunting. Roping in Obado's name makes it look even dirtier and makes it look so bad. There are people who want me to look bad to my people," he said.
Obado argued that his administration has opened up new roads, murramed and maintained many more in all the 40 wards in the county and all are "meant to serve the people of Migori". The governor said the remarks that his administration built the road as a bribe to Justice Ojwang' is meant to "ruin our reputations".
He said the road, like others in the county, was opened and murramed and there is nothing special about it.