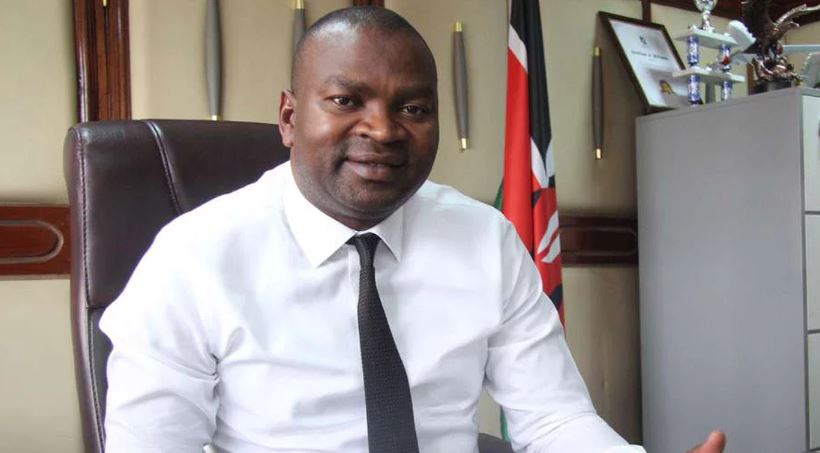 Former Sports Cabinet secretary Rashid Echesa woes are far from over as more details and searches continue at his home.
Armed policemen raided the home of sacked Sports Cabinet Secretary Rashid Echesa in search of guns.
Officers from the elite Directorate of Criminal Investigation's Special Crime Prevention Unit raided the former CS's Karen residence on Sunday night.
According to the police report at Kilimani Police station, OB68/17/3/2009, the DCI officers took Echesa's Beretta pistol and recovered 15 bullets during the operation.
The police are allowed to record an inventory of items they recover in such operations at any police station soon after the raid.
Echesa was sacked from President Uhuru Kenyatta's Cabinet on March 1. No reason was given.
Yesterday when contacted, Echesa initially denied any raid took place and disconnected the phone, only to call back minutes later and said he "met the police."
During the first conversation with a local print media, Echesa said, "Which police officers? Am not aware of such a thing."
Echesa called back the paper minutes after that first conversation and said the story about police raiding his house was propaganda. He threatened to sue the it if it was published.
The former ODM youth winger confirmed, however, that he had "met" police officers who had questioned him about the licensing of his gun.
"What I know is that I met police officers who wanted to know whether my gun is licensed and I produced all documentation, " the ex-CS said.
He declined to state where and what time he "met" the police officers and said he was not a criminal.He said the officers did not take away his gun and the bullets after confirming that all his gun licenses were intact.
Pressed for details, Echesa declined to say why the police had decided to visit his home to confirm his gun licenses at night.
The government has directed that all civilian firearm holders should present themselves for vetting at the DCI training school in South C.
Civilian firearm holders are also required to present their weapons for ballistic examination at the DCI headquarters on Kiambu road.
They are also required to undergo a mandatory mental fitness test. This formal process contradicts Echesa's explanation of police officers seeking him out to confirm his gun licenses.
Sources familiar with the investigations yesterday told the media that  Special Crime Investigators had also asked the ex-CS to account for another 35 bullets, which he is allowed and believed to have.
On the 35 bullets, Echesa asked, " When you have loaded your gun with the maximum number of bullets, where are you supposed to get any extra bullets?"
Records of his firearms certificate show he is allowed to have 50 bullets.
"We want to know where the other bullets are, now that police only recovered 15 from him," said a senior officer speaking on condition of anonymity.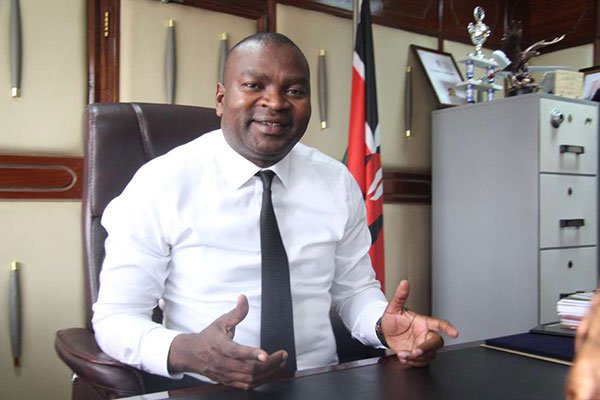 The police source said the weapon had been presented to DCI ballistics examiners for testing. The gun license has been surrendered to the Firearms Licensing Board that will make a determination.
Depending on the outcome of ballistics examination and records at the Firearms Licensing Board, a decision will be made on whether to return or withdraw the firearm.
Echesa has been demanding that Uhuru makes public the reasons why he was fired after serving for only a year.
He denied reports about a fake money syndicate, daring the police to arrest him if they had any evidence.
"I have kept on pleading with the President to clear the air and explain why he fired me. I believe I was sacked because of my unflinching support for Deputy President William Ruto. I am a victim of the 2022 succession politics.
"There are those who are uncomfortable with my closeness to Ruto and they will do everything to separate us," he said in the wide-ranging interview published by the Sunday Nation newspaper.
Asked whether he had any link to the Sh32 billion fake money recovered in a house in Ruiru, Echesa said, "Like I have just said, if this truly was my house, the police would have summoned me to record a statement by now. They haven't. "I have also not been to Ruiru for a long while.
"The last time I was there was way back in 2002 during the Inter-Service Boxing Tournament (having represented Kenya Prisons) and I have never owned a house there. "I repeat, I am not above the law and the police should come for me if they think I am in any way connected to the group.
"The State has the machinery to know the owner of the house and all those involved in this shady business. They should tell the country who owns the house," he stated.